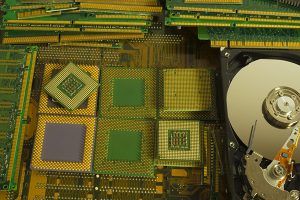 Robotic sorting, metals markets and CRT cleanups grabbed reader attention last month.
The list below shows our top stories published in February in terms of unique page views.
1 | Nationwide processor embraces robotic sortation
ERI is using machinery with artificial intelligence to sort materials coming out of a shredder. It's the first publicly known case of an AI robotic system sorting e-scrap.
2 | E-scrap processors receive higher metal prices
Global economic conditions have helped push up the scrap value of principal metals used in electronics.
3 | Public money will fund GES cleanup in Kentucky
When Global Environmental Services failed, the processor left CRT messes at multiple sites in two states. Years later, with the former owner in prison, government officials are nearing the last of the warehouse cleanups.
4 | Metal prices play into Sims revenue decline
Revenue and earnings for global e-scrap processor Sims Recycling Solutions dropped in the second half of 2018 compared with the same period a year earlier.
5 | Struggling processor Metech sold for $300,000
Metech Recycling, which operates five U.S. sites and encountered CRT storage issues recently, has been acquired by a group of investors associated with First America Metal Corp.
Photo credit: Unigraphoto/Shutterstock