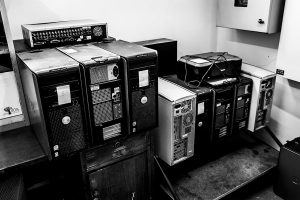 Liquid Technology managed the assets of defunct health tech company Theranos, which shuttered last year after a high-profile fraud case and other legal troubles.
Brooklyn, N.Y.-headquartered ITAD specialist Liquid Technology won a contract to manage thousands of electronic devices formerly used by Theranos, which claimed to have developed groundbreaking blood testing processes.
Theranos raised hundreds of millions of dollars in investment capital due to its potential to significantly alter the blood testing industry. But the facade began to crumble when observers began looking deeper into the company's claims. Federal regulators later got involved, investigating and charging the company's officers, including CEO Elizabeth Holmes, with fraud crimes. Theranos ultimately ceased operations in mid-2018.
"At the end of the saga, Theranos found itself left with large amounts of technology they could no longer make use of," Liquid Technology stated in a release.
Workers from the ITAD operation removed equipment from Theranos' headquarters for three days. Altogether, the company processed 550 laptops, 500 desktop PCs, 200 phones, 800 LCD screens and 4,200 other electronic devices. Many of the devices were resold to maximize value, the company said.
"No data destruction services were required, as Theranos had removed and stored the vast majority of the hard drives present in the equipment for any pending legal cases," the ITAD firm wrote.
Liquid Technology noted that the assets it handled included "several overlooked hard drives" that contained data. They were subsequently returned to Theranos.
ABC News is currently airing a multi-part podcast series covering the rise and fall of Theranos.
Photo credit: Creative Stock Studio/Shutterstock
More stories about processors