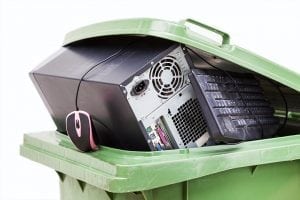 Primarily known for its curbside recyclables collection and sorting services, Waste Management is also a player in the e-scrap world, and its collection tonnage is on the rise.
The Houston-headquartered company's recent sustainability report, covering 2017 and some of 2018, offers a look at its growing e-scrap collection. In 2017, the company handled more than 31,000 tons of scrap electronics, a figure that also includes fluorescent lamps. That's nearly double the 16,000 tons the company collected in 2015.
The company is the largest residential recyclables collector and marketer in North America. For electronics, the hauler provides "secure transport options from any point in the U.S. or Canada," according to the report. Waste Management collects e-scrap and sends it to a network of third-party processors across the U.S. and Canada, according to the report, all of whom are certified to the e-Stewards, R2 and RIOS recycling standards. The company used to own its own e-scrap processing facilities but sold the business in 2015.
Waste Management has also expanded its collection options for e-scrap. It offers what it calls "At Your Door Special Collection," in which participating households receive a collection kit with instructions on how to package their materials and have Waste Management crews pick them up.
Photo credit: Photographee.eu/Shutterstock

More stories about collection