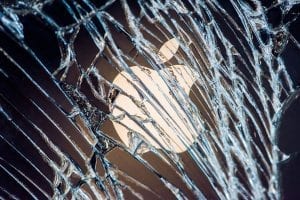 Canada's CBC News recently broadcast an in-depth documentary alleging Apple works to thwart independent repair and pushes customers to replace, not fix, devices.
The 18-minute report from "The National" news program includes footage from a hidden camera at an Apple store in Toronto, where an employee quoted $1,200 Canadian to fix a Macbook computer. Later, an investigator brought the computer to New York City repair store Rossmann Repair Group, where owner Louis Rossmann fixed the broken screen quickly by bending a pin back into place. He would have charged nothing for such a simple fix, he told CBC News.
The segment first aired last week.
A CBC News reporter also talked with Kyle Wiens, founder of California repair hub iFixit. In the introduction, CBC News reported iFixit has 125 employees and makes $21 million a year, calling it probably the most successful third-party repair operation in North America.
Wiens told the reporter Apple designs devices so they're difficult for independent companies to repair and threatens lawsuits when its repair information is posted online. (Wiens also provided an overview of the repair landscape during an plenary session at E-Scrap 2018, which was held last week in New Orleans.)
The CBC report explains how right-to-repair bills are being considered in state legislatures across the country. Such laws would force manufacturers to provide guides and other repair information to independent operators across a range of product categories.
CBC's segment also explored how Apple throttled performance in iPhones with older batteries, a move that has resulted in legal challenges.
Apple declined to speak with CBC News but released a statement saying the company believes customers are best served by Apple's certified experts using parts supplied by the manufacturer. The company denied systematically overestimating repair costs.
Photo credit: Elizaveta Galitckaia/Shutterstock
More stories about refurbishment/reuse