Nearly 1,300 electronics recycling industry professionals have converged on New Orleans for the 16th annual E-Scrap Conference.
The main conference program officially opens today at 9 a.m. with a plenary session assessing the overall health of the sector.
On Tuesday, the conference hotel, Hyatt Regency New Orleans, hosted pre-conference workshops and other ancillary events. They delivered important industry information in more intimate, classroom-like settings. Among the ancillary events was a highly attended session on best practices for batteries. Organized by the Institute of Scrap Recycling Industries (ISRI), the Oct. 9 session attracted about 190 people
"All the presenters were great – a lot of good information," said Carleen Matuska of Microsoft as she left the session. Matuska appreciated that the session speakers provided market insight she could use, as well as links to opportunities to learn.
"It's about having concrete information you can take away and actually do something with," she said.
Marvin Nuñez Sanchez of Costa Rican recycling company Fortech said batteries are a problem worldwide, and he noted the biggest problem in Costa Rica is educating consumers on proper battery disposal. It's difficult to persuade consumers to pay fees to held fund proper management of scrap batteries, he said.
His overall takeaway from the session: "For me, as a chemist, I'm glad to see there is a very well established industry about managing excess batteries, he said.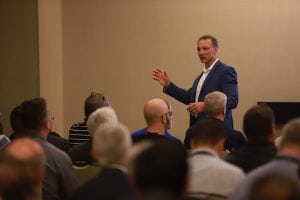 Downstairs, in the E-Scrap trade show, about 140 companies and industry groups are exhibiting. The hall opened Tuesday evening with a lively reception.
On Wednesday, in addition to the opening plenary session, other panels will cover a range of topics, including device tracking, certification standards, metals refining and state program evolution.
Thursday kicks off with a plenary focused on the ITAD realm, followed by sessions on device lifespans, the evolving stream and problem materials. A closing panel will look into electronics recovery challenges and opportunities in the year ahead.
Next year's E-Scrap Conference will be held Sept. 23-25 in Orlando, Fla.
Photo credit: Brian Adams Photography
More stories about industry groups
Save the date for next year!