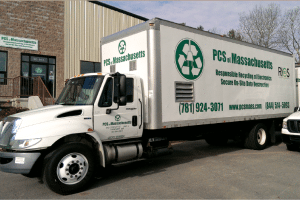 For e-scrap success, a key is staying on top of technology shifts. That fact is exemplified by an East Coast processor that has evolved its data destruction process of late.
Companies storing lots of data are increasing turning to solid state drives (SSDs), which don't have moving parts and are typically smaller, longer-lasting and more energy efficient than traditional hard drives with spinning platters.
But they also bring special destruction considerations. With that in mind, PC Survivors of Massachusetts (PCS of Mass) recently purchased a new hard drive shredder with a specific shredding mechanism for SSDs, said Lisa DiPaolo Bacewicz, the processor's CEO and president.
PCS of Mass works in a 22,000-square-foot facility with four loading docks 25 miles southeast of Boston. Appropriately enough, it's address is on Circuit Street.
The company processes about 20,000 pounds per week, including electronics, electrical components and medical/lab equipment. The company manually disassembles devices.
As data security issues grow in importance, the electronics recycling industry has emphasized data destruction and security to a greater degree. PCS of Mass is no exception, emphasizing its seven-step data destruction process safeguards.
The company provides on- and off-site data destruction by means of mechanical shredding, meeting standards required by federal departments such as the Department of Defense and National Security Agency.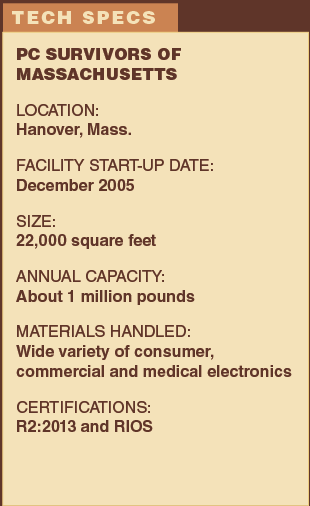 The company's seven steps on data management include securely transporting devices, logging information about them, destroying the media, and providing detailed documentation proving destruction occurred and the shredded material was recycled.
A centerpiece of the effort for PCS of Mass is its new Ameri-Shred AMS-1000HD-SSD mobile shredder, which can shred rotary hard drives to three-quarters of an inch and SSDs to three-eighths of an inch.
The three-eights of an inch size is required to ensure destruction of all of the memory chips that SSDs use to store data. At those settings, the equipment can destroy 2,000 SSDs and 1,000 hard disk drives an hour.
In addition, the company uses an HSM 411.2 Cross Cut Shredder for destroying optical media such as CD and DVDs.
The company is marketing its data security efforts as it looks to expand its network of medical and laboratory equipment resellers and buyers.
"Partnering with PCS of Mass might be as simple as connecting with us to share what your needs are and how we could potentially benefit each other," the company notes. "We believe when working together, great things can be accomplished and welcome those kinds of opportunities."
This article originally appeared in the Summer 2018 issue of E-Scrap News. Subscribe today for access to all print content.
Do you know of a processing company that should be featured in this column? Email [email protected].