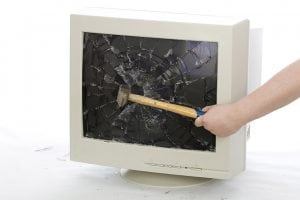 A form of therapy that encourages destruction is generating a little more demand for used electronics and a greater supply of broken scrap.
"Rage rooms," which offer people the chance to destroy household wares to their heart's content, seem to be growing in popularity across the U.S., according to news reports. The Wall Street Journal recently wrote about two new establishments in New York City, and both owners said they have a hard time sourcing enough devices to destroy each week.
One rage room owner told the newspaper he's buying used electronics on eBay and Craigslist. Printers, keyboards and TVs seem to be popular items to destroy.
After they're smashed, some broken electronics can find their way to e-scrap processors. One of the New York room owners said he takes the remains to E-Waste Warehouse in Brooklyn, which sells what it can salvage and recycles the rest.
Last month, a Las Vegas rage room called Sin City Smash issued a press release noting it has recycled 4,000 pounds of e-scrap, with staff members "painstakingly" sorting recyclables after smashing sessions.
As for the physical and mental health implications of rage rooms, significant questions remain. In an NBC News report from 2016, a rage room customer is shown destroying TVs, including mercury- and lead-containing flat screen and CRT TVs, with no more than a pair of gloves and a face shield.
And psychologists writing for verywellmind.com and psychologytoday.com point to research showing that using violence to deal with stress and anger can, instead of helping people vent and calm down, encourage aggression and violence as a way to deal with stress in the future.
Photo credit: abd/Shutterstock

More stories about markets