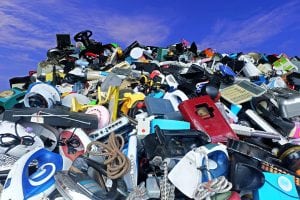 Yale University researchers estimate 3.5 million metric tons of electronics ended up in U.S. landfills in 2015, significantly higher than government estimates.
A study published by the Journal of Industrial Ecology pulls from multiple data sources to calculate weights of different materials landfilled. It was conducted by Jon T. Powell and Marian R. Chertow, both from the Yale Center for Industrial Ecology.
Regarding e-scrap, their estimate of 3.5 million metric tons going in the landfill includes small electronics and appliances. Using a different methodology, the U.S. EPA calculated 1.7 million metric tons were landfilled or burned in 2015 (the EPA reported a 40 percent recycling rate for electronics). The federal agency data separated consumer electronics from appliances.
The discrepancy is "likely a function of the measured nature of our source data and the scope of materials in our data, which covers all electronic devices," the researchers wrote. "Disposal quantities of e‐waste in previous U.S. and global estimates are also often inferred rather than measured, owing to limited available data."
The Yale study estimated that landfill disposal costs ranged from $165 million to $182 million, or from $47 to $52 a ton.
For their study, the researchers used a new model to estimate disposal weights. According to their report, it triangulates measurements spanning 1,161 landfills and 15,169 solid waste samples collected and analyzed at 222 sites across the U.S.
"The model provides major advances in the accuracy of estimates of just what types of waste are being created and where they end up," said Reid Lifset, industrial ecology research scientist at Yale and editor-in-chief of the Journal of Industrial Ecology.
In contrast, the EPA uses what's called a materials flow methodology that relies on a mass balance approach. It relies on data gathered from industry associations, businesses and government agencies, supplemented by waste characterizations and research reports from governments, industry or the press.
In their report, Powell and Chertow suggested that, in addition to using existing recycling and reuse outlets, dedicated sections of landfills could serve to store large amounts of scrap electronics for future recovery. They cited a previous estimate of the large volume of rare earth elements within electronics in landfills.
Storage at landfills would be "a stopgap approach until rare earth and other material extraction technologies get closer to economic viability and collection systems for discarded electronics are improved," he wrote.
Photo credit: DAMRONG RATTANAPONG/Shutterstock

More stories about research/em>