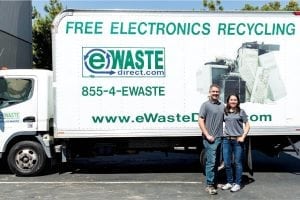 California-based eWaste Direct didn't start as a scrap metal company that moved into electronics, or as a longtime repair hobby turned business. In a way, it started by accident.
And a recent high-profile award from eBay is helping to propel the small, refurb-focused processor to new levels of notoriety.
In 2008, Joe Nelson and his wife, Angie Cardona-Nelson, went to an auction of assets from a building that had been abandoned by a failed mortgage company. After they won bids for filing cabinets, laser printers and CRT monitors, they discovered they'd unexpectedly purchased everything in those categories. They took much of the heap to a metals recycler, and while there, Joe saw workers breaking down computers and TVs and learned that the company was paid for the materials.
That got the couple thinking about electronics recycling as a business.
Today, the small company employs 13 people in a 5,000-square-foot warehouse space in Livermore, Calif., an hour drive east of San Francisco. The company collects scrap electronics from businesses and commercial properties around the area.
About a year ago, it stopped taking residential material because the logistics of collection and markets made it cost-prohibitive. What makes the company unique is it doesn't charge for collection, avoiding the monthly subscriptions or contracts other electronics recycling companies have to negotiate, Angie said.
Instead of shredding, eWaste Direct employs a manual dismantling approach to all devices that are recycled, so its equipment consists only of power tools, a forklift and pallet jacks. Separated components are sent downstream to R2 and e-Stewards partners for commodities recovery. By weight, about 75 to 80 percent of what comes in the door is recycled, and separated materials are sent to two vendors within a 30-mile radius or a third one in Michigan.
But eWaste Direct derives most of its revenue – about 80 percent – from the electronics that are resold and reused. "We try to extract as much as possible and give it a second or third chance at life," Cardona-Nelson said. "Its worth is not just from the economic sense of it, but also because it's fair. It's our planet. It's our environment."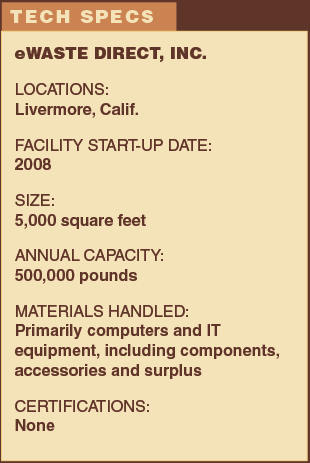 Geography helps the company obtain high-value electronics. The proximity to Silicon Valley means it gets high-quality devices from software and tech companies, some with equipment retirement rates of two years. Additionally, the price per square foot of office space is so costly in San Francisco's Financial District that it incentivizes companies to clear out old electronics to create more working space, Nelson said.
"We're getting assets that are still tremendously valuable," he said.
When material with reuse value comes in the door at eWaste Direct, it goes into testing and data-destruction phases. Hard drives are wiped using the MediaTools Wipe software from ProSoft Engineering.
The more time-consuming step is doing research to determine online resale values for items, Angie said. "It's a process, but it is what's kept us alive during these really turbulent times of commodity prices," Cardona-Nelson said.
All reused devices are sold through the "Angie's Green-Go Surplus" store on eBay. In fact, eBay recently gave Cardona-Nelson and her company its 2017 Small Business of the Year award, inviting her to accept the honor during an event last July at the MGM Grand Las Vegas. The store averages about 1,200 sales per month.
Many of the items are sold into developing countries, where there are markets for electronics U.S. consumers aren't interested in anymore. Cardona-Nelson grew up in Colombia and moved to the U.S. in 2002. She noted people in Colombia are still buying iPhone 4s, a device model that will not move in U.S. markets.
Nelson, meanwhile, said eBay's award has already raised eWaste Direct's profile.
"We've been on a good trajectory, and with winning this award, it's getting this exposure to where we're already starting to get more inquiries," he said.
Do you know of a processing company that should be featured in this column? Email [email protected].
This article originally appeared in the March 2018 issue of E-Scrap News. Subscribe today for access to all print content.