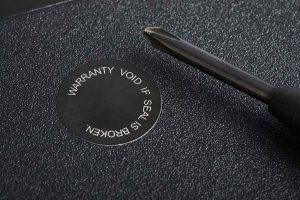 The U.S. Federal Trade Commission says multiple companies may be violating federal law by telling consumers that using unapproved parts or repair providers will void warranties on their electronics.
The FTC sent letters to companies that sell automobiles, cellular devices and video game systems in the U.S. The letters say FTC has concerns their warranty language may violate U.S. law by requiring consumers to use specified parts or service providers to keep their warranties intact. The concerns extend to warnings against breaking seals or stickers.
"Unless warrantors provide the parts or services for free or receive a waiver from the FTC, such statements generally are prohibited by the Magnuson-Moss Warranty Act, a law that governs consumer product warranties," according to the FTC. "Similarly, such statements may be deceptive under the FTC Act."
FTC staff asked each company to review their promotional and warranty language and to revise their practices to comply with the law. The companies were not named.
"Provisions that tie warranty coverage to the use of particular products or services harm both consumers who pay more for them as well as the small businesses who offer competing products and services," Thomas B. Pahl, acting director of the FTC's Bureau of Consumer Protection, stated in a press release.
Kyle Wiens, founder of repair hub iFixit, told E-Scrap News the decision was important, because the warranty language has been scaring people away from trying repairs.
"We've been saying this for a long time, and it's nice to have official backing," he said. "Concern about voiding the warranty is a top fear that consumers have for doing repairs themselves, and it's completely unwarranted. You can take something apart and put it back together without voiding the warranty."
As an example, The Verge website reported that, until recently, Apple had been telling consumers that using third-party repair services to fix broken iPhone screens would void their warranties.
Photo credit: JIPEN/Shutterstock