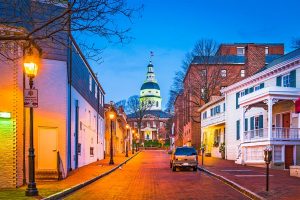 Budget shortfalls are a reality for state programs nationwide, and in Maryland, the strain is increasingly being felt at the county level.
The Maryland Recycling Network (MRN) recently held a webinar that featured Kitty McIlroy, project analyst for the Northeast Maryland Waste Disposal Authority (NWMDA), which manages electronics recycling contracts for a handful of Maryland jurisdictions.
She said that despite there being a state program in place, the specifics of the legislation do not do enough to ensure the full cost of electronics recycling is covered. That has put the onus on counties, which play an outsized role in Maryland's local government system.
"There's still 3.5 million tons of CRTs that will require management from 2015 to 2030," McIlroy asserted, citing a figure from the National Center for Electronics Recycling. "That is a big deal for a lot of local jurisdictions, especially when it comes to their budgets."
Maryland's program
Maryland's e-scrap program does not focus on convenience or performance standards, meaning it's notably different from the initiatives in place in states such as Connecticut, Oregon, Vermont or Washington.
Under those systems, manufacturers manage and pay for the statewide collection network, and in some cases they are required to operate a minimum number of collection centers statewide to provide sufficient convenience when it comes to collection of the residential stream.
Maryland's program, enacted in 2005, instead boils down to offering two options, manufacturer takeback networks and local government-run collection sites.
The program requires manufacturers of certain devices (computer or video display devices that contain a screen larger than four inches, measured diagonally) to register with the state's environment department and pay a certain amount to the state. Manufacturers must pay a $5,000 or $10,000 registration fee each year, based on the number of devices they sell in the state.
The registration fees collected from manufacturers are used in part to fund grants that are available for municipalities and counties that offer collection options separate from the manufacturer takeback options.
OEMs can reduce their fee to just $500 if they offer residents free takeback for covered devices. These takeback programs must meet several criteria: They have to be free to Maryland customers, provide a free shipping container if one is requested, and include educational information about data destruction.
McIlroy contended that such an arrangement is not leading to an economically sustainable system.
She noted that in 2016, the state issued $250,000 in grants, with up to $15,000 available for an individual jurisdiction. But she said last year it cost nearly $800,000 for just four of the state's counties to pay for their e-scrap collection programs.
"A $15,000 grant does not cover even one month of service for some (NWMDA) jurisdictions," McIlroy said.
'Not the most user-friendly process'
She added that when it comes to the manufacturer takeback option, there is a shortfall in resident awareness. Takeback program information is typically provided on the OEM's website and the state website, but McIlroy said such details often don't make it to the individuals that need them.
"At this point, it's up to the Maryland resident to look up their electronics manufacturer's brand information, and then figure out if they're covered or not by calling or searching online," McIlroy explained.
There are only a handful of free drop-off sites run by manufacturer takeback programs in the state. Most of the OEM programs use mail-in collection, even for larger, bulky items such as TVs. The mail-in service requires the resident to wait for packing materials to be shipped to them and can be complicated when the resident wishes to send in multiple devices.
Overall, McIlroy said, the takeback system in Maryland "is not the most user-friendly process."
This means most residents are moving their end-of-life material into the pipeline managed by local governments, leaving counties in a lurch. McIlroy said there are only six out of the state's 23 counties that offer year-round free electronics recycling drop-off for residents. Those jurisdictions operate the sites with funds allocated through their local budget.
"The remaining jurisdictions are faced with either disposing of electronics, or asserting some sort of tipping fee for recycling," McIlroy said.
Photo credit: Sean Pavone/Shutterstock
More stories about local programs