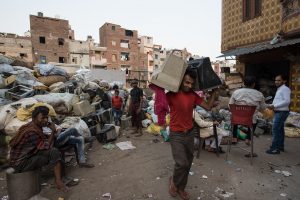 The Indian government has released rules intended to bolster an organized system of e-scrap processing by gradually increasing collection requirements for manufacturers.
On March 23, the Minister for Environment, Forest and Climate Change, Harsh Vardhan, announced amendments to the country's e-scrap management rules, according to a press release.
The changes set future collection and recycling targets manufacturers are required to meet under the country's extended producer responsibility (EPR) system. The amendments established a phased approach, with increasingly more aggressive targets. Starting in the 2017-18 program year, manufacturers' stewardship groups must collect 10 percent of the quantity of waste generated as indicated in the EPR plan. The target increases by 10 percentage points each year until 2023, when it reaches 70 percent, according to the official notification.
The print edition of E-Scrap News in September 2017 published an article by Verena Radulovic exploring the important role vast numbers of informal collectors, dismantlers and processors play in managing India's scrap electronics. From her visit to the country and research, she concluded the government will need to utilize the unregistered sector in some way to effectively manage the volumes being generated in the country. Subscribe to the print edition now.
Photo credit: Verena Radulovic
More stories about EPR/stewardship