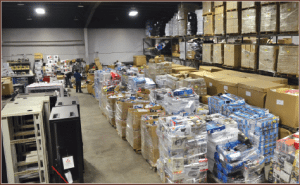 Novus, which means "new" in Latin, is an appropriate name for this Georgia e-scrap processor. The company was founded only in 2016.
Business partners John Flynn and Ronnie Doane launched the operation early last year "with the primary goal of processing and handling all types of electronic equipment in an efficient, economical and environmentally friendly manner," said Doane, managing director of Novus Solutions.
Novus Solutions handles a wide variety of electronic scrap, although it doesn't take white goods. Novus Solutions focuses on providing IT asset disposition (ITAD) services to organizations. Its offerings also include device resale.
In addition to ITAD services, Novus Solutions accepts most items from the public for free at its 35,000-square-foot facility. CRT devices, however, require a flat $15 fee. Novus Solutions also works with other recycling companies and municipalities to host collection events.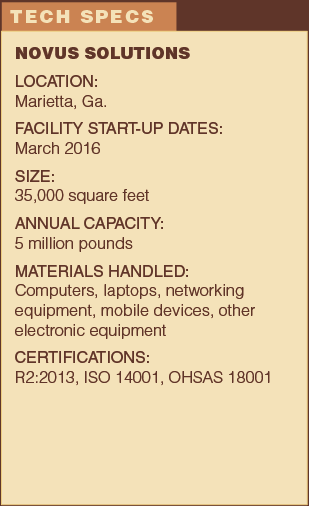 For recycling, the company employs a manual disassembly and separation approach, although it will shred devices for data-destruction purposes. In terms of shredders, it uses a Shred-Pax dual-shaft shredder with two-inch knives for destruction of large electronic devices. The company also utilizes an Ameri-Shred mobile shredder with diesel generator mounted in a 20-foot Mitsubishi box truck for on-site mobile shredding needs.
Its baler is a Cram-A-Lot vertical downstroke model used for cardboard and rigid plastics. Novus Solutions uses Extreme Protocol Solutions-licensed software to perform data sanitization on hard drives.
When possible, the company tries to divert devices from the recycling stream into refurbishment, Doane noted. Devices that don't meet specifications or fail the refurbishment process move into the asset disposition area. Hard drives are either wiped to NIST 800-88 standards or shredded, depending on customer specifications.
Doane and Flynn, who have more than three decades of combined experience in e-scrap recycling and ITAD, said their company takes a community-first approach to doing business.
"Our focus is working to create partnerships in our community. We believe that when we put the needs of our community partners first, our company can make a difference," Doane said. "When we work alongside school systems, banks, municipalities, and other recycle centers, we can be a positive force for innovative recycling and environmental change. Our passion is to empower our partners."
He also noted Novus runs a lean operation, relying only on 10 key individuals.
"Many of our competitors have been forced to close their doors due to depressed commodity prices, high overhead costs and inexperience, but our aim is to provide excellent service with competitive pricing," Doane said. "We take the approach of 'Do what you say. Say what you do,' which has been well received by our customers thus far."
This article originally appeared in the December 2017 issue of E-Scrap News. Subscribe today for access to all print content.