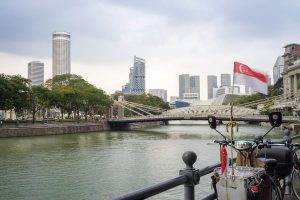 A Singapore leader says the small Southeast Asian country will implement extended producer responsibility for electronics by 2021.
Facing a low recycling rate for electronics, the island country of nearly 6 million people will implement a mandatory collection and recycling program, said Amy Khor, senior minister of state for the Environment and Water Resources. She was speaking at a debate in Parliament on March 6.
Khor citied a government estimate that residents place only about 6 percent of their e-scrap in recycling bins. The extended producer responsibility (EPR) system will cover five categories: information and communications technology (ICT) equipment such as mobile phones and computers, solar panels, batteries, lamps and certain large household appliances.
The country's National Environment Agency will set collection targets for manufacturers and importers. Electronics retailers will be required to offer free product take-backs.
"The mandatory e-waste system will help both the environment and the economy," Khor said. "EPR systems have generated new business opportunities and jobs in the e-waste management and recycling industries in other countries."
In other news, Hong Kong is getting closer to the start date for its mandatory program, according to the South China Morning Post. Starting Aug. 1, companies selling electronics and electrical appliances will be required to offer free collection of used equipment. Additionally, consumers will pay fees when they buy new electronics, and retailers will remit the funds to the government quarterly.
Photo credit: DanliePhoto/Shutterstock
More stories about EPR/stewardship