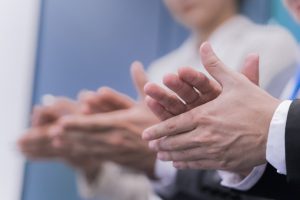 The U.S. EPA recently recognized an easier-to-recycle flat-screen TV, an outreach and collection program, and a phone reuse project.
The EPA gave out its annual Sustainable Materials Management (SMM) Electronics Challenge awards during the 2018 Consumer Electronics Show (CES) in Las Vegas last week. The awards give props to OEMs and retailers for designing environmentally friendly devices and working to ensure end-of-life electronics are diverted from landfill.
Following are the results of the "Champion Awards," competitive awards for which organizations must apply:
Flat-screen TV: LG received the Product Award for the company's OLED TV line. The lightweighted OLED TVs use fewer hazardous substances than other flat screens. "LG has also reduced the number of plastic resins used in their product design and labeled those resins to facilitate disassembly and recycling," according to the EPA.
Outreach and collection program: Staples received the Non-Product Award. The company allows consumers to drop-off their end-of-life electronics for recycling at 1,250 stores nationwide. Staples' outreach and public education initiative has increased the weight collected at each store, despite an evolving stream of lighter products. Specifically, the weight increased from 6.5 tons per store to 6.83 tons per store in 2016.
Reuse project: Samsung received the "Cutting Edge" award for its Galaxy Upcycling program, which provides necessary resources and tools to allow consumers to reuse their old Galaxy phones for specific purposes, such as a closed circuit TV, desktop PC, pet feeder or arcade game console. E-Scrap News wrote about the program in November.
EPA also recognized companies receiving "Tier Awards," which commend companies meeting requirements for gold, silver or bronze levels.
A video of the Jan. 11 awards ceremony is available on the CES website.
More stories about OEMs