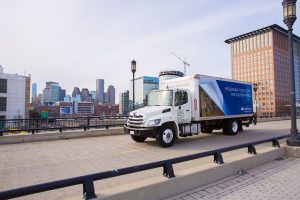 A recent government approval is expected to bring Iron Mountain, which is already a giant in the world of data storage and destruction, further into the IT asset disposition business.
Iron Mountain, a publicly traded company headquartered in Boston, announced that ITAD services have been added to its contract with the U.S. General Services Administration (GSA). That means the company's services have been vetted and are listed on a schedule – alongside dozens of competitors' offerings – that federal agencies consult when deciding on contractors.
The company refers to its service as secure IT asset disposition, or "SITAD."
The GSA approval is expected to significantly boost the volumes flowing through Iron Mountain's ITAD business. Its five-year contract with the GSA lasts through March 9, 2022.
"We certainly expect this to be an acceleration point for us to begin selling more into the federal space much more quickly," said April Chen, a senior product manager for Iron Mountain. "In the next five years, we certainly expect to be one of the top providers of ITAD services on the schedule."
About five years old, Iron Mountain's ITAD business now brings in about $15 million a year in revenue, according to a company statement. Its services have a broad geographic reach and include on-site and off-site data destruction, remediation and remarketing of electronics and recycling of scrap devices.
"Almost anywhere there's a government facility, we have a location that's fairly close by," said David Harris, senior product manager at Iron Mountain. Overall, the ITAD business has seen major growth in recent years, he said.
"We've actually been doubling the size of our business every year," he said.
Iron Mountain already has other offerings on the schedule, including document scanning, data management and records storage, Iron Mountain's "bread and butter" service that's been on the GSA schedule the longest, Chen said. Adding ITAD services required navigating a long, cumbersome and expensive process, Harris said. The process involved preparing and submitting a solicitation response and negotiating with the GSA.
"This has been a year-plus endeavor," Harris said. "It's not as simple as fill out a form, submit it and you're good to go."
More stories about processors