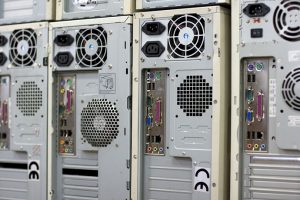 The IT asset disposition sector is facing "unprecedented uncertainty," according to an industry expert, yet it is receiving more and more interest from outside investors.
In a recent analysis, David Daoud of research and consulting firm Compliance Standards explores the factors influencing the capital influx and how the sector can adapt for long-term viability.
Investors have been drawn to IT asset disposition (ITAD) based on stories of high returns, Daoud said, but also because the industry is involved in both data security and environmental stewardship.
"These are words that still resonate among some investors, who see them as good selling points, and tend to attract capital into cash-hungry firms," he writes.
He pointed to the recent move by Newark, Calif.-based ITRenew to sell a controlling stake to a private equity firm.
An ITAD company receiving a capital injection can help the company thrive, but it does not guarantee success. Daoud points to the case of Intechra, an ITAD company that received substantial investment but ended up with "unchecked infrastructure growth and a too-aggressive strategy." The company was eventually sold after not generating the returns its investors hoped for, Daoud writes. Arrow Electronics acquired Intechra in 2010.
Daoud also identifies several cautionary measures investors should consider before investing in ITAD firms. For one, investors should consider the long-term outlook of the business given current contract structures. Although enterprises frequently pay fees and rely on ITAD firms for their services, half of large companies that buy new hardware from OEMs and large distributors already have the cost of decommissioning devices embedded in the purchase costs.
"The handshake between the OEM and the end-user company limits any opportunity for core ITADs to displace the OEM, unless they serve the OEM as a contractor," Daoud writes.
Still, he describes one way the ITAD sector could evolve and retain its place amid the new contract structures. As device life cycles get shorter, leasing is becoming more popular. And ITAD companies can play a larger role in helping move devices through the reverse supply chain system, Daoud wrote.
David Daoud regularly speaks about the state of the ITAD marketplace at the annual E-Scrap Conference. Save the date for E-Scrap 2018, to be held Oct. 9-11 in New Orleans.
More stories about research