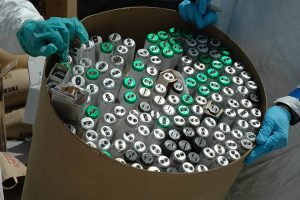 Veolia has opened an operation in Ontario to recycle lamps and mercury-bearing electronic components.
The 5,000-square-foot facility is located in the Toronto-area city of Pickering, Ontario, where Veolia already runs an industrial cleaning and hazardous materials management operation, according to a press release. The focus will be on recycling lamps, but the facility is also capable of recycling electronics and other mercury-containing materials.
"Our investment in this facility represents our commitment to finding better solutions for lighting and electronic waste, as well as ways to minimize the impact of waste on our environment," William J. "Bill" DiCroce, Veolia North America president and CEO, stated in the release.
The facility will use a Balcan MP8000 Lamp Recycling Machine to separate mercury-bearing fluorescent lamps into three streams: metals, glass and phosphor powder. In total, the facility will be able to process more than 6 short tons per hour. Veolia plans to manage 2,425 tons of material per year at the facility, with an expected doubling of throughput by the end of 2020, according to the company.
Nearly all of the glass and metal will be recycled locally, and the phosphor powder will be transported to a Veolia facility in Wisconsin for retorting and recycling.
Veolia North America is an arm of the French multinational utilities giant Veolia Environnement.
More stories about processors