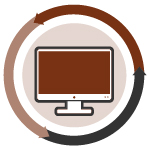 A local government grows concerned about financing e-scrap collection without state grants, and a for-profit business, non-profit group and city partner on e-scrap recycling in Arizona.
Funding challenge: A New York municipality is having trouble financing its e-scrap collection service as state grant money diminishes. According to the Livingston County News, money that was set aside by the state to offset local governments' cost is being spent, and a regional solid waste agency is worried it will receive only a fraction of its requested reimbursement funds, if anything.
Printer opportunity: Cartridge World has launched a printer exchange program, accepting end-of-life devices in exchange for a new, leased printer. According to a press release, the retailer will provide the new printer for no cost and will provide on-site service for the duration of its use, as long as the customer agrees to buy toner from Cartridge World.
Local partnership: ERI has contracted with the City of Yuma, Ariz. to provide drop-off electronics recycling for residents. According to The Yuma Pioneer newspaper, the commingled devices will go to a local organization employing developmentally disabled individuals, who will sort the devices and send them to ERI for a cost. The additional sorting allowed ERI to charge the city a lower price to accept the scrap electronics, according to the article.
Safety feature: Battery recycling stewardship group Call2Recycle will begin using a flame-retardant liner in its battery collection boxes to diminish the danger of battery fires. According to a press release, the liner is made of a dry polyester fiber and can withstand up to 1,100 degrees Fahrenheit.
Mixed bag: Repair resource iFixit has rated the Apple Watch Series 3 for repairability and given it a 6 out of 10. In its teardown guide, iFixit writes that the product earned points for an easily repairable watchband and difficult but doable screen and battery replacements. But the product was docked for using very small tri-point screws, requiring micro-soldering for cable replacements and using a resin case that makes circuit board repairs very difficult.