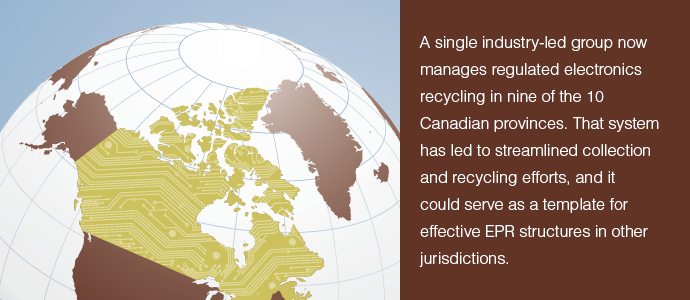 This article originally appeared in the September 2017 issue of E-Scrap News. Subscribe today for access to all print content.
Electronics recycling is now truly a countrywide reality in Canada.
Earlier this year, New Brunswick began its regulated electronics recycling program, meaning every one of the 10 provinces has a program implemented. We also are celebrating notable "birthdays" for other programs, some of which have been successfully operating for a decade. High standards for recycling, increasing awareness and easy accessibility are all part of the evolution of electronics management here in the north.
One group has been central to the country's e-scrap coordination. Electronic Products Recycling Association (EPRA) is an industry-led, not-for-profit organization that operates regulated recycling programs across Canada, ensuring that end-of-life electronics are handled in a safe, secure and environmentally sound manner. Across Canada, EPRA promotes and manages electronics recycling options for consumers in nine of the 10 provinces, improving the efficiency of regulated take-back and responsible recycling while managing a cost-effective, streamlined administration for stewards (manufacturers, electronics distributors and retailers) in the provinces in which it operates.
This article lays out the specific steps EPRA has taken in recent years to spread cohesion and consistency in electronics recycling across Canada's broad geographic area.
Early proponent of an e-scrap standard
Coordinated efforts for responsible recycling of electronics began in Canada over a decade ago. In 2004, the Canadian electronics industry, represented by Electronics Product Stewardship Canada (EPSC), developed an electronics recycling standard (ERS) to ensure environmentally responsible recycling and to prevent illegal exporting of electronic waste. The development of the Canadian ERS was ahead of the development of the R2 and e-Stewards standards, and it has been revised numerous times in order to ensure that it meets the current needs of the stewardship programs as well as the developing electronics recycling industry. Since its most recent revision in 2015, the ERS has incorporated the R2 standard. R2 certification is now part of the verification process to become an approved recycler in addition to specific Canadian requirements; the move was made to harmonize electronics recycling standards internationally.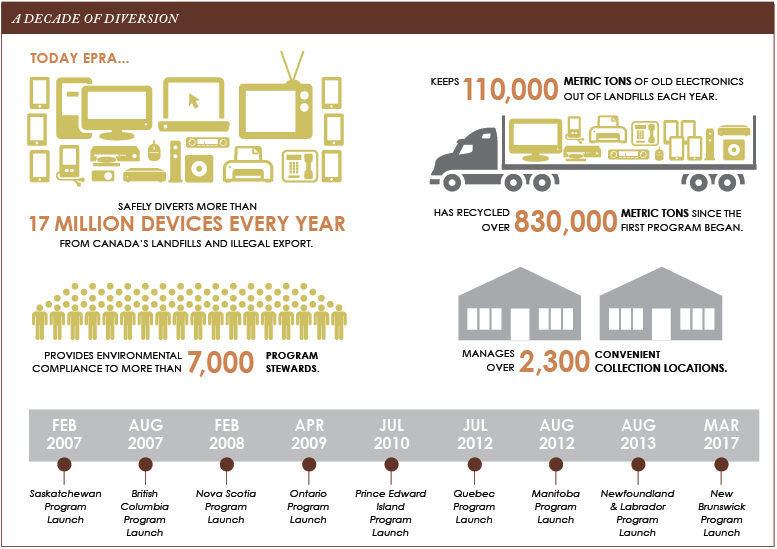 The decade following the development of the original ERS saw various industry-led electronics stewardship programs start up in provinces across the country to meet provincial regulations for extended producer responsibility (EPR). Today, EPRA operates regulated electronics recycling programs in British Columbia, Manitoba, New Brunswick, Newfoundland and Labrador, Nova Scotia, Ontario, Prince Edward Island, Quebec and Saskatchewan. The only province where EPRA is not involved is Alberta, which manages its own program.
EPRA ensures that end-of-life electronics are recycled in a safe, secure and environmentally sound manner, and the organization only works with recyclers that have been verified by the Recycler Qualification Office (RQO) under the ERS. This ensures that all verified recyclers responsibly process materials entrusted to them by EPRA while maintaining appropriate health and safety controls. The RQO employs a team of trained and qualified assessors in certified environmental management system lead auditing and, as of Dec. 31, 2016, they had conducted 165 audits in Canada, the United States and overseas (downstream processors of Canadian material are subject to the provisions of the ERS).
EPRA provides environmental compliance to more than 7,000 industry stewards across Canada and throughout the globe, collecting electronics through more than 2,300 drop-off locations. With convenience being a key driver in encouraging electronics recovery, EPRA has focused on building the network nationally and has increased the number of EPRA-approved drop-off sites by 40 percent in the last two years. And this strategy is bringing more material into the recycling stream. Even with the electronics industry moving toward miniaturization and lightweighting in device design, EPRA programs have recycled over 830,000 metric tons of electronics since the first provincial program was launched in Saskatchewan in 2007 (it's worth noting that the Saskatchewan effort was the first industry-led state or provincial electronics recycling program anywhere in North America).
Management and funding details
In Canada, provincial EPR regulations obligate the manufacturers, distributors and retailers of electronic devices to be responsible for the end-of-life reclamation and recycling of the electronics they sell, and the regulations are set locally by environmental ministries within each provincial government. Upon approval of the provincial regulations in the nine provinces where the e-stewardship programs are not government-run, EPRA submitted a program plan to handle electronics recycling on behalf of the obligated stewards in the province. Once the program plan was approved provincially, EPRA hired a program director to operate the program locally. From there, a network of collection, transportation, consolidation and recycling was established for the province in question.
Another important factor is ensuring consistent funding for safe and secure recycling of the electronics that are dropped off for processing. Environmental handling fees are charged by obligated stewards on the sale and distribution of all new electronic products regulated in each individual province. The stewards then remit the collected fees to EPRA to cover the cost of local collection, transportation and safe recycling of the collected electronics within each province. The fee is not a government tax nor is it a refundable deposit, and the fee is not determined by the government. EPRA monitors and adjusts these fees as a regular part of its operations. To ensure accurate application and explanation of the fee, EPRA produced a training video called "What is the EHF?" that is available on EPRA's website for all stewards and consumers.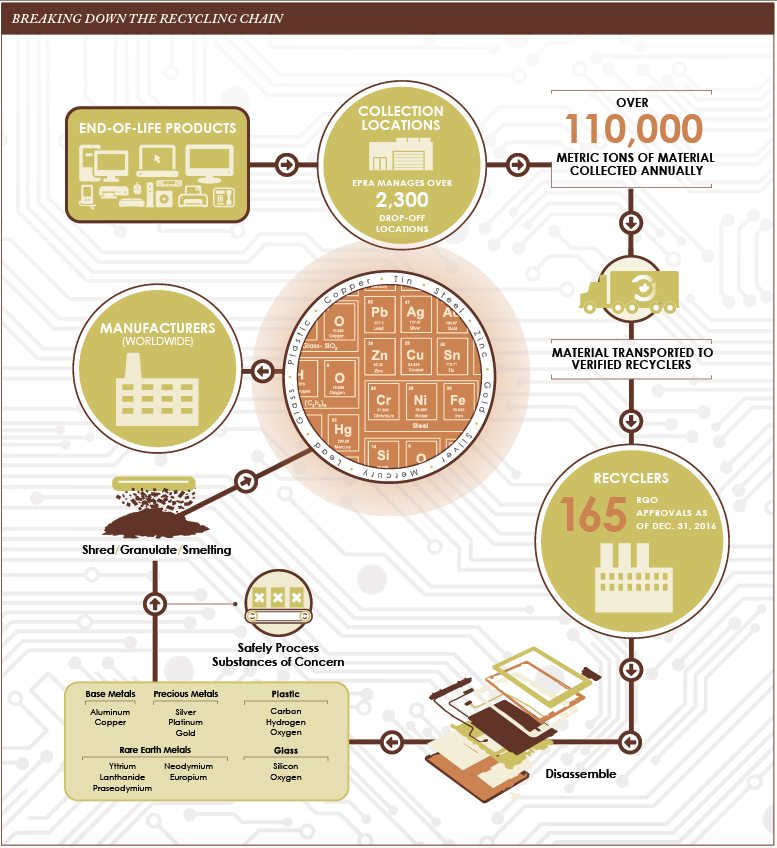 In addition to the rigor of the national recycler auditing standards set by the RQO, EPRA has focused on building a national systems infrastructure, centralizing core services while harmonizing electronics stewardship across Canada in the provinces in which it operates. The combination of local provincial program operation with an overarching national infrastructure opens the door to successful management of regional opportunities and challenges (geography, economics) while providing the effectiveness and efficiencies that come from shared and centralized systems and services.
A specific example of this approach can be seen in EPRA's online 3R system. The interface provides retailers of all sizes and geographic locations an effective tool for registration, reporting and remitting and includes a very retail-sensitive approach that allows easy participation for enterprises of all sizes. Additionally, the harmonization of steward compliance audits ensures that national or regional retailers are not subject to multiple audits for each provincial program under EPRA leadership.
EPRA has also been successful in ensuring a level playing field where all industry players must be in compliance. In addition, the national infrastructure enables the organization to leverage best practices developed in the different provincial programs, resulting in further operational integration and efficiency while ensuring regulatory compliance in each province.
Increasingly embedded in lives of residents
For many Canadians, recycling EOLE is quickly becoming just another way of living sustainably, as evidenced by the diversion and recycling rates over the years. For a vast geography with a population that has fewer people than the state of California, it is estimated that through EPRA programs, Canadians divert more than 17 million devices from landfills and/or illegal export each year. As a result, a wide range of recovered materials have been generated, recycled responsibly and put back into the manufacturing supply chain, reducing the need for virgin resource extraction and decreasing associated greenhouse gas emissions.
For these achievements and advancements, EPRA has been recognized in Canada and internationally as a leader, including winning the 2015 Canadian Stewardship Award for Business. And there are more achievements to celebrate. In March of this year, EPRA launched the electronics recycling program in the province of New Brunswick. Just four months in, the program has increased collection convenience significantly, now with over 50 drop-off locations for residents to bring in material for safe and secure recycling.
In 2015 EPRA celebrated its five-year anniversary in Prince Edward Island, and Newfoundland and Labrador celebrated a three-year program anniversary in 2016. In 2017, four of the EPRA programs are marking anniversary milestones with the British Columbia and Saskatchewan programs celebrating 10 years of responsible electronics and programs in Manitoba and Quebec marking five years of operation.
From coast to coast in Canada today, there is a network of industry-led programs. That is certainly something for Canadians to take pride in, and to celebrate.
Jay Illingworth is harmonization director at the Ontario-based Electronic Products Recycling Association. He can be contacted at [email protected]