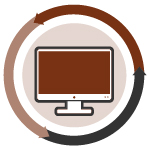 A new phone gets a rock-bottom score when it comes to repairability, and a Kansas program finds a creative way to reuse scrap electronic components.
Upgrade advice: In anticipation of the next iPhone models' release, Refinery29 offers some tips on how best to trade in older devices for an upgrade. The tips touch on several points also relevant to electronics refurbishers, including the current estimated trade-in values several different outlets are paying for the iPhone 7 and 7 Plus.
Inside guide: Repair hub iFixit has released two new tear-down guides detailing how to open up devices to complete repairs. On a scale of 0 out of 10, with 10 indicating the device is easiest to repair, the guides give the Samsung Galaxy Note8 a repairability score of 4 and the Essential Phone a score of 1.
Critical analysis: In a different sort of response to Apple's upcoming release, MarketWatch takes a look at the environmental costs of the frequency of new models and consumer upgrades. The article points to the greenhouse gas emissions during manufacturing, a relatively low estimated recycling rate for all electronic devices, hazardous material pollution and other factors contributing negatively to the environmental impact.
Made official: Wisconsin has adopted the federal rule regulating the management of end-of-life CRT materials. The change is mostly a formality of getting the rule on the books, since the Wisconsin Department of Natural Resources' existing requirements for CRT management mirror those of the federal rule.
Strike out: The former owner of e-scrap company Intercon Solutions has had another of his business ventures shut down. The Chicago Tribune writes that Brian Brundage, who was charged last year with income tax evasion and fraud, has had his sports management company certification suspended by the Major League Baseball Players Association.
Creative reuse: A Kansas household hazardous waste collection facility has gotten artistic with its excess e-scrap. The Abilene Reflector Chronicle reports the facility has crafted robot models out of the discarded electronics. The robots now serve dual purposes: using surplus materials and acting as a sign to direct customers where to drop off electronics.