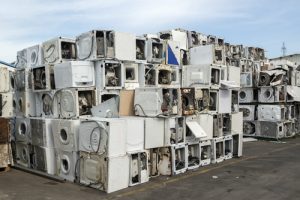 Though overall revenue fell, profits at global e-scrap company Sims Recycling Solutions grew significantly last year, according to the firm's latest financial filings.
Sims Recycling Solutions (SRS), the electronics recycling arm of Australia-based scrap metal company Sims Metal Management, contributed earnings of 20 million Australian dollars (nearly $16 million USD) during the 2017 fiscal year. That was up from the $6 million USD in earnings the e-scrap division produced the year before.
Sims Metal Management is publicly traded on the Australian Securities Exchange.
"The improvement was led by strong performance in Continental Europe, supported by improved prices for copper and precious metals," according to a press release.
Average prices for copper and gold grew by 10 percent and 8 percent higher, respectively, compared with fiscal year 2016, the company noted. Those stronger metals markets, combined with internal cost-reduction efforts, drove higher profits for SRS.
The news is a turnaround from 2016 fiscal year, when SRS saw a steep drop in profits. Facing tough markets for e-scrap metals, SRS experienced an 83 percent decrease in earnings that year. In the past couple of years, the company has worked to sell or idle underperforming facilities, closing all of its Canadian operations and scaling back its presence in the U.K.
In its latest financial filings, which cover the year ending June 30, 2017, Sims also partially credits the regulatory landscape in Europe for strength in earnings. SRS operations more than doubled their earnings year to year in the Continental Europe region.
"Governmental sponsors and the regulatory environment for electronics recycling in the European Union, where the company maintains the majority of its e-waste related operations, remain supportive advocates for the industry," according to a Sims financial document.
The higher earnings came despite lower total SRS revenues in 2017: $581 million USD, down more than 8 percent. That was partly a result of SRS downsizing its U.S. e-scrap operations. But the overall profit margin increased from 1 percent in 2016 to nearly 3 percent in 2017.
SRS reported having 1,416 employees during the 2017 fiscal year, down nearly 4 percent from the year before. About 14 percent of Sims Metal Management's sales revenue comes from electronics and appliance recycling and reuse.
More stories about markets