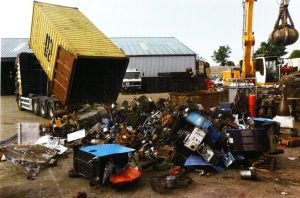 A worldwide police operation busted people suspected of illegal waste shipping and disposal, mostly involving metals and scrap electronics, according to Interpol.
The group, which facilitates cooperation between nearly 200 countries' police forces, announced the results of a month-long coordinated campaign to disrupt organized crime groups involved in the illegal movement and disposal of waste.
Called "30 days of action," the June campaign identified 226 waste crimes, as well as 413 administrative violations. The criminal cases, specifically, involved 141 shipment orders totaling 15,400 short tons and 85 dumpsites where more than 1.1 million tons of material were illegally disposed, according to an Interpol press release.
"The majority of the illegal waste discovered during the operation was metal or electronic waste, generally related to the car industry," according to the release.
Interpol said that Asia and Africa were the main destinations for illegal shipments of waste from Europe and North America. Trafficking also occurred between countries in Europe.
Officials from 43 countries participated in the campaign, which was described as the largest global enforcement action against waste crime and trafficking to date. Previous actions have focused on e-scrap, but this operation widened its scope to include other types of material, including industrial, construction, household and medical waste.
The press release noted that criminal groups involved in the illegal disposal of scrap electronics have also been found to be engaged in the trafficking of people, drugs and weapons, as well as fraud and money laundering.
More stories about courts/lawsuits