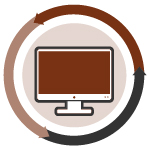 Dynamic Recycling undergoes a major expansion in Wisconsin, and Washington state continues to experience reductions in weights collected.
Batteryless phone?: Researchers have opened the door to a future cell phone that doesn't need a battery, which could simplify both recycling and use. Reuters reports that experts at the University of Washington in Seattle developed a device that harvests a tiny amount of power from radio signals to power the unit.
Lighter stream: So far in 2017, Washington state's electronics recycling program has collected 83.9 percent of the weight of TVs, computers and monitors it garnered the year before, according to the Washington Department of Ecology. The decrease is a reflection of the evolving stream of end-of-life electronics, with fewer CRTs and lighter devices.
Growing business: Dynamic Recycling has announced a 140,000-square-foot expansion in Onalaska, Wisc., adding about 150 jobs. State incentives will help Dynamic buy additional equipment, replacing work that's currently done internationally, the La Crosse Tribune reports. Gov. Scott Walker attended the opening ceremony on Aug. 14.
Importance of ITAD: Companies that lack ITAD policies are putting themselves at risk in multiple ways, a writer noted in a post at nojitter.com. Gary Audin, president of Delphi, Inc., writes that risks include penalties for improper disposal of hazardous material and the loss of intellectual property.
Collection targets: TV collections in Maui, Hawaii have been put on hold for two and a half months because manufacturers have already met their collection and recycling weight obligations for the year, according to The Maui News. Computers and related equipment are still being collected.
Precious metals recovery: Itronics, a Nevada company using a unique technology to recover precious metals from circuit boards, announced its first sale of a copper- and silver-containing glass product. The company also recently made a second shipment of silver recovered via its recycling process.
Smartphones still reign: Even with wearables, drones and smart home devices emerging on the market, none are yet close to overtaking the good ol' smartphone, Business Insider reports. While sales of newer technologies are growing at a faster rate, they're still not close to the 185 million smart phones expected to ship in the U.S. this year.