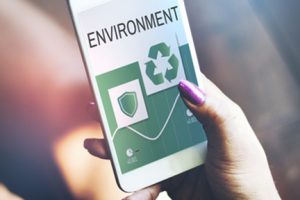 The EPEAT sustainable electronics program now includes mobile phones, providing assurance to buyers that the qualifying devices meet certain standards for end-of-life management.
The Portland, Ore.-based Green Electronics Council, which runs the EPEAT program, announced on July 31 that mobile phones have joined computers and displays, imaging equipment and TVs in the program.
The EPEAT program offers a registry of electronics that meet certain environmental friendliness standards, including sustainability in manufacturing, packaging, energy needs, end-of-life management, use of substances of concern and other criteria. The program also includes a process to check whether those devices meet the standards and to publicly report those that don't.
The addition of phones to the "leading global eco-label for the IT sector" allows institutional purchasers to easily identify and compare high-performance, more-sustainable phones, according to the Green Electronics Council.
The first phones to be listed on the EPEAT registry are Apple iPhone models 7, 7 Plus, 6s, 6s Plus, SE; Samsung Galaxy models S8/SM-G95OU and S8+/SM-G955U; and the LG G6/LG-VS988. The same day the Green Electronics Council made the announcement, Samsung and LG both put out press releases highlighting their phones' inclusion in the EPEAT registry.
The Green Electronics Council said additional mobile phones, including those from HP and other global brands, are expected to be listed later in the year.
Developing the standard
Melanie Bower, EPEAT program manager at the Green Electronics Council, said the standard was developed through a voluntary consensus process involving a balanced group of stakeholders. Called UL 110, the standard for mobile phones was developed by Underwriters Laboratories (UL) and adopted by EPEAT.
"We really see our role as being able to convey to institutional purchasers, 'Here are products that meet your need if you have a sustainable purchasing program," Bower told E-Scrap News.
The standard's "end-of-life" category includes the following required criteria for phones: Manufacturers must provide a take-back program, their primary recycling vendors must be third-party certified, batteries must be replaceable, devices must be easy to disassemble, phones must have a feature to erase user data, the manufacturer must take steps to enable repair and refurbishment, notification of the availability of replacement parts must be provided, and manufacturers must identify materials and components requiring selective treatment.
In addition to required criteria, UL 110 includes optional benchmarks manufacturers can meet so their products can climb from a bronze level up to silver and gold.
An evolving program
With the launch of the mobile phones category, EPEAT is also piloting a certification process, Bower said. Under the current EPEAT program, manufacturers declare that their products meet the standards before they're listed, at which point they're subject to verification.
With mobile phones, they'll still have that option, but they can also choose to have UL audit their devices first to determine whether the devices meet the requirements.
"Rather than have the manufacturers say, 'I think this meets,' they're basically having the certification body check their work," Bower said. "It's something that we're trying out to see how it works and might consider expanding to other EPEAT categories."
Green Electronics Council heard from some manufacturers they preferred a certification model, because it reduces the risk of having their devices found non-compliant later, she said.
Bower said the nonprofit group is also exploring adding other types of electronics to EPEAT. Several years ago, the group laid out a roadmap calling for the inclusion in EPEAT of all of the current device types, plus servers. The standard for servers was recently completed, and staff are currently assessing it for inclusion.
As technology continues to evolves, however, Green Electronics Council is looking to roll out an updated roadmap for adding new types of electronics. The idea is to explore adding devices institutions might be looking to purchase in the future, Bower said.
More stories about certification standards