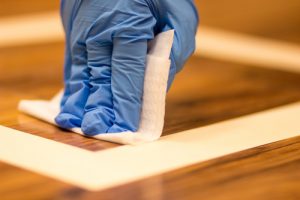 Even if an e-scrap facility is not thought to be processing toxics-emitting devices, it should be testing for toxic substances.
That's one takeaway from a researcher who co-authored a new report titled "Lessons learned from surface wipe sampling for lead in three workplaces." Researchers from the National Institute for Occupational Safety and Health (NIOSH) and Harvard University compiled the report.
The study focuses on the methodology for wiping a surface with an absorbent pad and analyzing the sample to gauge the presence of toxic substances. The study looks at surface wipe sampling in an e-scrap processing facility, battery recycling plant and firing range.
The surface wipe sample provides evidence of lead migrating from the processing area of a facility into non-processing spaces such as the lunch or break room.
But the report also serves as a reminder for e-scrap facilities to regularly test – regardless of whether they believe they're encountering toxic substances.
In an interview with E-Scrap News, co-author Diana Ceballos, a researcher at Harvard University, said shredding facilities, particularly those dealing with CRTs and PCBs, are often aware of the lead exposures they face and are more likely to have testing procedures in place. But she also pointed to the facilities that simply dismantle CRTs and send the glass downstream to another outlet.
"Even by doing that they are releasing dust," Ceballos said, and they may be less aware of the lead exposure. "The way I see it is, only the facilities that know it's an issue consider surface sampling."
Ceballos spoke at E-Scrap 2016, detailing the results of her previous research into worker safety at e-scrap processing facilities.
The electronics recycling field is a bit different than others when it comes to testing for lead, because unlike the lead-acid battery recycling facility or gun range, in an e-scrap facility lead is just one of many toxic materials that are present. Cadmium, chromium, nickel and other substances are also frequently found in electronics recycling facilities.
Some of the other metals present, notably tin, have the potential to interfere with one form of the surface wipe sample procedure: the colorimetric test, which provides results immediately on the wipe using colors. Instead, e-scrap facilities should use the "quantitative" test method, in which the samples are sent away to a lab for analysis.
The difference is stark enough that the color test didn't show any lead in the studied e-scrap facility due to tin contaminating the results, but the lab test returned positive lead readings.
Ceballos said the surface wipe sample procedure could also be usefully employed in a wider range of waste management facilities. She pointed to the fact that CRTs are ending up in landfills and that there's a large portion of the e-scrap stream that still doesn't get properly recycled. That means there are even more facilities – including municipal recovery facilities (MRFs) sorting curbside recyclables – that are handling toxic materials but may not conduct the same tests as an e-scrap facility.
Ceballos said the real takeaway is that a facility should choose a method of testing and stick with it over time. That way, the results can be compared from test to test. In an ideal world with all the available resources, she said, testing would be conducted at least once per year.
More stories about research