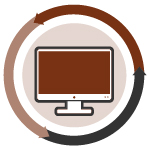 An e-scrap facility transforms into an art gallery for an evening, and a Chinese import expert says moving recovered electronics into the country will only get tougher.

Art of e-scrap: A section of a New York City electronics recycling organization's facility was recently transformed into a gallery of sculptures and installations made from recovered material. The Hyperallergic site reports the one-night exhibition at the Gowanus E-Waste Warehouse in Brooklyn featured work from the operation's artist-in-residence.
They're not gonna take it: A Chinese scrap materials expert says that the Asian giant will be consistently accepting decreased levels of recovered e-scrap shipments from other countries, according to Waste Management World. The publication notes that Steve Wong of the China Scrap Plastics Association recently told the Bureau of International Recycling the market shift is a result of ongoing Chinese regulation.
Hawaiian halt: E-scrap collections are going to stop on the Hawaiian island of Maui for five weeks, states The Maui News. Material is typically accepted on an ongoing basis at a drop-off point on the island, but the process of sending material to the mainland U.S. is being rejiggered and officials need to stem the stream of incoming items as adjustments are made.
Pay up to drop off: An Indiana county is beginning to charge residents $20 for each TV and computer monitor dropped off for recycling. The Columbus, Ind. Republic newspaper reports Bartholomew County has seen increased costs from its processing partner, Indianapolis-based Green Wave Computer Recycling.