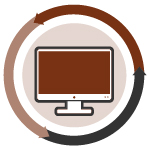 Unlike in consumer markets, repairing CRT displays remains a common practice for the aviation industry, and a new phone's screen may look cool but it's prone to breaking.
CRT use: Although CRT devices have all but been phased out of the consumer market, CRT usage remains relatively common in cockpits of airplanes. Aviation International News' AINonline estimates there are still thousands of CRTs in use in airliners and business aircraft. The publication interviews several companies that have contractual obligations to provide parts and repair the devices for several years still.
Facility profile: If Kuusakoski Recycling receives an intact CRT-containing TV or monitor in the morning, its leaded glass is treated and placed in a retrievable cell at a landfill by the afternoon. That's according to a local feature article in Journal Star newspaper, which provided a look at how Peoria, Ill.-based Kuusakoski processes about 80,000 pounds of TVs per day.
Breakable screen design: A Motherboard article notes just how fragile the new Samsung Galaxy S8 is because of its infinity screen, which is prone to cracking. Yet repair shops like that the replacement screens are cheaper than with past phones. Repair advocacy group iFixit gave the device a 4 out of 10 for repairability (with 10 representing easiest to repair), dinging it for its screen design.