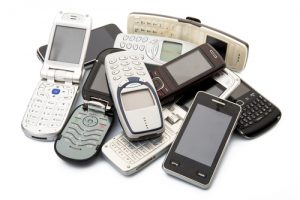 Getting old mobile devices out of Canadians' junk drawers and into the recycling stream may be a lucrative challenge for the e-scrap industry, a survey suggests.
According to research on the Canadian market, 62 percent of survey respondents said they had at least one old phone in storage, up from 48 percent the year before.
In 2016, respondents across the country reported storing an average of 2.1 cell phones, up from 1.9 phones in 2015.
The survey, conducted in December by Nanos Research, was commissioned by the Canadian Wireless Telecommunications Association (CWTA). Nanos surveyed 3,000 adult Canadians via telephone and online. The results were included in a press release about the Recycle My Cell program, a free mobile device recycling program in Canada.
While the results showed a growing hoarding of devices, it also showed strong consumer awareness of and support for cell phone recycling programs. More than 8 in 10 respondents said they would consider recycling their old device if they knew where to do so.
But the survey hinted at an information gap holding many consumers back. Specifically, 26 percent of respondents holding onto a cell phone said they hadn't recycled the device because they don't know what steps to take.
Other major reasons cited included keeping it as a backup or extra phone (23 percent), keeping it because they need the information on it (16 percent), keeping it for real or potential future need (15 percent) and holding onto it because they don't know how to delete personal information and have security concerns (11 percent).