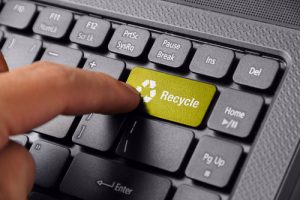 EPEAT and other eco-labeling initiatives are helping boost the use of recycled content in plastics used for electronics, an HP executive said at a recent European plastics recycling conference.
Jason Ord, HP's director for environmental responsibility in Europe, the Middle East and Africa, spoke at the Plastics Recycling Show Europe held in March in Amsterdam. Ord gave an OEM perspective on scaling up use of recycled plastics.
He said HP is finding its best success in the use of recycled plastic in commercial flat-panel displays. Ord noted it's easier to use recycled plastic in this product because it's black and because flat-panel displays are less affected by cosmetic requirements. About 80 percent of HP's current commercial display output contains post-consumer plastic resin.
This move toward more recycled content is due, in part, to eco-label procurement requirements by large governmental and business-to-business sales. For example, EPEAT, a sustainable electronics standard administered by the Green Electronics Council, is often a requirement for purchases by public agencies.
"Eco-labels drive demand for recycled plastic in computers and displays," Ord said.
According to HP's latest sustainability report, the company incorporates e-plastics from used ink and toner cartridges back into new cartridges. It also uses other post-consumer plastic sources, including beverage containers.
The report also noted that it used 6,200 metric tons of post-consumer plastic in PCs and displays in 2015, although it didn't indicate whether the recycled content came from recovered e-plastics or other sources.
HP isn't alone in incorporating recycled resin in its devices. Dell has for years incorporated post-consumer e-plastics in its products. During the 2016 fiscal year, Dell used 3.4 million pounds of post-consumer e-plastics in its products, up about 55 percent from the year before.