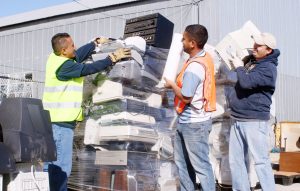 Public entities continue to take the pledge to become participants in the State Electronics Challenge, indicating their willingness to become better stewards of electronics.
In 2016, the program reached 166 partners, up slightly from 160 the year before.
The State Electronics Challenge asks participants to take steps to reduce the environmental impacts of their electronics in the areas of procurement, operations and maintenance, and end-of-life management. A list of best practices in each area is provided.
Partners can also win awards through their participation. Seventeen partners earned awards based on their 2016 performance, with gold awards (indicating all three lifecycle phases were addressed) going to seven of them.
The State Electronics Challenge is administered by the Northeast Recycling Council.