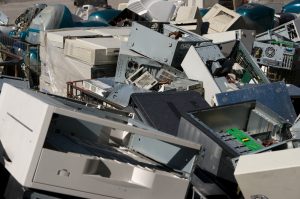 A community in Wyoming will end its e-scrap recycling program and instead send electronics to a local landfill — even though a city ordinance prohibits disposal of those materials.
The City Council of Casper, Wyo. voted last week to reject a contract for e-scrap recycling, citing what they saw as its high cost and relative unimportance.
"It looks to me like we're spending $57,000 on a measure that's more politically correct than it is necessary for us," said Council Member Chris Walsh at the Feb. 7 meeting, noting the city has ample room in its landfill to dump electronics.
Casper is just one example of a city canceling or scaling back its electronics recycling program in the face of changing e-scrap market economics.
The City banned e-scrap from its landfill in 2009, and a local nonprofit organization began facilitating recycling of those materials. When the group recently lost federal funding, Fresno, Calif.-based ERI submitted a bid to take over collection and processing for a maximum of $57,400 per year at its Denver-area location. The council voted unanimously to turn down the contract, with most of the elected leaders citing the cost versus return for the city.
"When you really look at the hard numbers, (recycling) is an expensive business, and this is not a time for us to take on unnecessary expenses," Council Member Charlie Powell said.
The city of nearly 60,000 people generates 82 tons per year of e-scrap, according to the city's solid waste department.
Now, the city has to figure out how to get around its local landfill ban. According to the Casper Star-Tribune, the city's solid waste department will stockpile e-scrap until the landfill ban can be officially repealed. If city facilities fill up before the ban is lifted, the city may have to illegally dump some of the material in the landfill, the newspaper reported.
Prior to the council decision, Cynthia Langston, solid waste division manager, noted recycling is often the first item to be cut when budgets are tight.
"Recycling is always that low hanging fruit of where you can cut budget costs," she said.