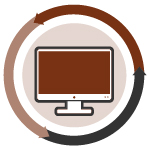 Long lines fail to deter residents from participating in a collection event, and one community sets up curbside e-scrap collections.

E-scrap rarity: Curbside e-scrap collection is available for Yorkville, Ill. residents, as the city has expanded its contract with its waste and recycling services provider. According to WSPY FM 107.1, the service will be available at no extra cost to residents, who can call the city's hauler and schedule curbside pickup whenever it's needed.
Tablets take a tumble: Tablet shipments declined for the ninth quarter in a row at the end of 2016, according to the International Data Corporation. The trend closed out a year that saw 15 percent fewer tablets shipped worldwide.
Willing to wait: Despite lengthy wait times, an e-scrap collection event in Aurora, Ill. drew a crowd of residents eager to recycle computers, appliances, CRT devices and more. The Aurora Beacon-News reports attendees waited half an hour to recycle their old electronics, which aside from a $10 charge for CRTs, were accepted for free.
Recycling record: Nearly 569,900 short tons of waste electrical and electronic equipment were recycled in France last year, a 12.3 percent increase over the year prior. That marks a new record for any major European country, according to The Connexion newspaper, but France still has some distance to cover to meet the 2020 target set by a European Union directive.