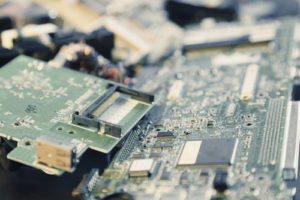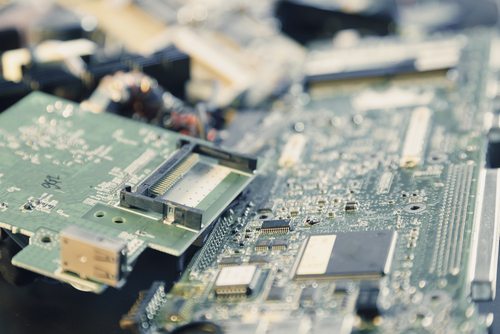 The federal government has dramatically lowered permissible exposure limits for beryllium, a metal used in some electronics.
The U.S. Occupational Safety and Health Administration (OSHA) released new limits regarding the amount of beryllium workers can be exposed to.
The lower limits could affect e-scrap companies shredding printed circuit boards and other components. Beryllium, often alloyed with copper or aluminum, is used in automotive electronics, computer components, home appliance parts and other products.
OSHA's final rule sets a new permissible exposure limit for beryllium at 0.2 micrograms per cubic meter of air, averaged over eight hours. The previous limit, set four decades ago, was 2 micrograms per cubic meter of air. The new rule also sets a short-term exposure limit: 2 micrograms per cubic meter over a 15-minute period.
The rule also requires employers to use engineering or work practice controls, such as ventilation or enclosure, to limit worker exposure to the strong, lightweight metal. According to an OSHA press release, employers must also provide respirators when controls can't adequately limit exposure, limit worker access to high-exposure areas, develop a written exposure plan and train workers on hazards.
They must also make medical exams available to exposed workers, and they must provide medical removal protection benefits to workers who suffer a beryllium-related disease.
Disease and cancer concerns
The new rule is based on an updated review of scientific literature on the dangers of beryllium dust, mist and fumes.
"OSHA has determined that employees exposed to beryllium at the previous permissible exposure limits face a significant risk of material impairment to their health," according to the rule. "The evidence in the record for this rulemaking indicates that workers exposed to beryllium are at increased risk of developing chronic beryllium disease and lung cancer."
According to OSHA, testing at electronics recycling and precious metal recovery operations indicates that the exposure of workers engaged in mechanical processing can be reduced below the new limits.
But at secondary smelting furnace operations, surveys show median exposure levels exceed the limit . That's because furnaces produce significant amounts of fumes and particles that can be difficult to contain. In those cases, some furnace workers will need respirators to protect them, according to OSHA.
The agency considered a lower limit of 1 microgram per cubic meter of air but found it wasn't achievable in many of the affected industries. That was true for secondary smelting, refining and alloying, including the handling of scrap and recycled materials, according to OSHA.
National Jewish Health, a medical center specializing in research and treatment of chronic beryllium disease, testified to OSHA that the disease has been reported in the aluminum industry. The medical center also continues to to see severe chronic beryllium disease in workers involved in medical device recycling and metals reclamation.
OSHA's final rule was published in the Federal Register on Jan. 9.