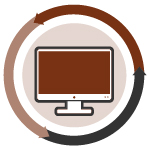 New regulations are coming for exporters of CRTs, and an e-scrap collection program in Illinois comes back strong.
R2 data: Sustainable Electronics Recycling International reports on the latest details of its R2 certification standard. It says the 70 audits in the past 18 months revealed nine nonconforming recycling facilities, which subsequently lost their certifications. In addition, 77 percent of people attending R2 auditing training have passed the final exam.
New rules: New requirements for the export and import of hazardous waste, including CRTs, are coming and The National Law Review wants people to be prepared. The requirements include a regulation that requires exporters to provide EPA with an annual report detailing how much material was sent overseas the previous year.
Strong comeback: After a temporary suspension, Kane County, Ill. has relaunched its e-scrap recycling program and is declaring it a success. The Daily Herald says since the program started up again in mid-September, 1,424 residents have dropped off 109,778 pounds of e-scrap.