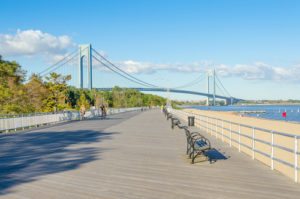 The success of a Staten Island pilot program that allows residents to schedule e-scrap pick-ups for free has New York City officials already considering expanding the service.
The Staten Island program, which began Oct. 17 and is run by the Department of Sanitation (DSNY), was created to counteract widespread dumping in the borough and to help residents comply with New York state's landfill ban on electronics. And, so far, it appears to be doing its job.
"We have seen a significant reduction in e-waste dumping on Staten Island," Belinda Mager, a spokeswoman at DSNY, told E-Scrap News. "DSNY is hoping to expand the pilot into other locations in the city."
Staten Island has an estimated 166,000 occupied housing units and a total population of more than 470,000 people. It is, by far, New York City's least-populous borough and has a far greater percentage of single-family houses than other parts of the city.
In October, Staten Island residents requested a total of 1,329 pick-ups, while 1,089 were requested in November, according to data supplied by DSNY.
DSNY data shows about 32,000 pounds of e-scrap were picked up by city crews from Oct. 17 to Oct. 31. Much of the weight derived from TVs — about 56 percent of collections were CRT TVs, while another 20 percent consisted of non-CRT TVs.
Detailed data on November pick-ups has not yet been finalized.
Unique initiative
The method of providing free curbside pick-up is a relatively novel approach for a major urban center, although Boston also has a similar program in place.
While Staten Island's curbside program has yet to extend to Manhattan, Brooklyn, Queens or the Bronx, the e-cycleNYC program, which is also run by DSNY, allows large apartment buildings to opt in to e-scrap collection and recycling services.
Staten Island's program, which is estimated to cost New York City about $1.3 million in its first year, covers a wide range of electronics, including laptops, desktop computers, computer peripherals and printers.
According to Mager, the program allows crews to complete 60 individual pick-ups per day on Staten Island. Pick-ups can be scheduled over the phone or online up to two weeks in advance and residents can leave e-scrap on the curb the night before a scheduled collection.
"The program has been very well received," she said.