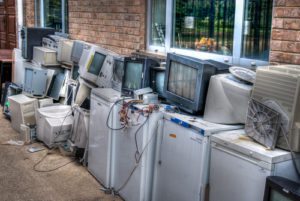 The state of Wisconsin is pleased with how its e-scrap program is going, but officials said in a recent report the program needs to be amended for the successes to continue.
E-Cycle Wisconsin started in 2010. It is an extended producer responsibility law where manufacturers of TVs, computers, monitors and printers must register the brands sold in the state. The OEMs also receive a target weight for recycling based on their sales.
In the first seven years of the program, households and schools recycled nearly 225 million pounds of electronics, according to the report.
Last program year (July 2015 to June 2016), collectors took in 32.4 million pounds of electronics for recycling. That is an increase of 6 percent from the previous year. But, overall, the report said there has been a steady decrease in the weight collected in the last few years. Last year, collection totals were down about 17 percent from the peak of 39.1 million pounds in the 2011-12 program year, the report stated.
That is attributed to consumers bringing in fewer CRT devices.
Costs for consumers have also increased and the number of collection sites around the state has decreased. The report blames that on low commodity prices and the high costs of recycling and managing CRTs.
Recommendations
Even though the report states "the vast majority of manufacturers, recyclers and collectors are complying with the law," it suggest there's room for improvement.
The major recommendation for lawmakers to consider is a change to the "manufacturer target formula so that the aggregate target is based on the total weight of electronics received for recycling under the program during previous years."
The recycling targets have declined significantly from year to year and the report suggests an overhaul of the formula will better balance the "weight of electronics that need to be recycled with manufacturer target weights."
The report also suggests changing the definition of covered products. Currently, smartphones, photo printers, portable DVD players and other peripheral items are in a "gray area" as to whether they're covered. Officials said changing the definition would not only make the items count toward recycling targets but make the program clearer for consumers.
The report said implementing the proposed changes will bring down the costs for consumers and collectors.
The changes mirror those released in a state report last year. In response to the December 2015 report, lawmakers considered a bill, Senate Bill 621, that would have effectively boosted targets, required collections in rural areas and added devices to the program. The legislation failed to pass out of the state Senate.