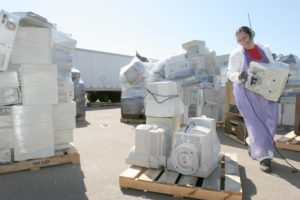 Oregonians are generating more waste and recycling less of it, according to a state report, and that includes electronics.
According to the Oregon Department of Environmental Quality, the the total volume of electronics collected in the state decreased 11 percent between 2014 and 2015.
Electronics accounted for 1 percent of all material recovered for diversion in the state in 2015.
Oregon has an e-scrap product stewardship program that is free to residents and financed by OEMs. The report doesn't indicate the cause of the decrease.
Similar overall e-scrap decreases have been seen in Washington and some other states with electronics recycling programs. As these initiatives continue to mature, some states are seeing a plateau or decrease in the number of CRT devices coming into collection sites, and this phenomenon is leading to lower overall volumes.
When looking at all materials, residents in Oregon generated more than 5 million tons of waste last year. That is a 4.8 percent increase from 2014.
Roughly 46.5 percent of that waste was recovered, which is an increase from 2014, but not enough to hit the state's goal of 50 percent.