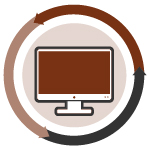 Refurbishers have competition in Apple, and a lot of Americans might soon be ditching their old TVs.
Touch disease repair: Apple has launched its own repair program for the so-called "touch disease" that is afflicting the iPhone 6 Plus. The Verge reports Apple will fix the phones for $149. Touch disease renders the touch screen useless and Apple claims it is a consequence of the user repeatedly dropping the phone.
Continued decrease: The latest numbers from E-Cycle Washington show a decrease in the weight collected. The year-to-date collection total for 2016 is 31.7 million pounds. That is 87.8 percent of the weight collected during the same time period last year.
Black Friday faves: TVs were the number one purchase among Black Friday shoppers, according to the Consumer Technology Association. Tablets, smartphone and gaming consoles were the next top sellers.