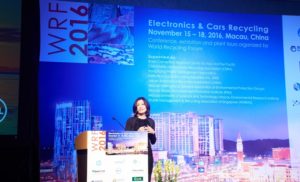 Key electronics recycling leaders, especially those from Asia, gathered in China recently to discuss the realities of e-scrap management from a global perspective.
The Electronics & Cars Recycling event, sponsored by ICM, was held in Macau in mid-November.
Circular sensibilities
The consideration – and the debate – worldwide about the concept of a circular economy was a focus of the conference. Vivian Tai, who is responsible for global environmental issues in Asia for Dell Technologies, explained how this concept is being addressed by the firm.
The company provides free recycling in 83 countries, and in 49 countries, the firm has an asset resale system. In addition, Dell offers customers in 15 countries the buyback of servers and storage devices. "The circular economy requires a robust e-scrap recycling system," she noted.
Tai pointed out that product design issues are being included as part of the circular economy assessment. She noted that Dell uses a life-cycle approach in product design and that doing so leads to important design concerns such as developing easy-to-repair electronics.
Circular economy factors are also part of how HP is approaching e-scrap issues, said Monina De Vera-Jacob, who holds a similar position to Tai. Vera-Jacob laid out HP's circular economy strategies, these being "de-materialization" (using less raw material to begin with), efficient repair, parts re-use and demanufacturing.
She spoke out against a pending Basel Convention regulation that would define items sent for repair as e-waste. This change will raise recycling costs, require licensing of refurbishers and ban shipments to developing countries. She said such a regulation involves 120,000 tons per year of repairable items.
Addressing crude processing of electronics
Similar to what's been seen at ICM's previous Asian conferences, recycling practices in developing countries received major attention in Macau. One interesting conclusion is that some unscrupulous Chinese e-scrap firms that were shuttered by Chinese environmental officials have moved to other countries, according to Fons Krist, head of Aurubis AG Asian efforts. (The company is the world's largest copper recycler. Copper smelters such as Aurubis have always recovered precious metals from copper concentrates, so as more computers were used in the past decades, the firm became a major global buyer of printed circuit boards from e-scrap processors.)
Krist's research indicates that crude printed circuit board (PCB) processing by some Chinese operators has moved to Laos, Pakistan, Thailand and Vietnam, among other nations. At these sites, PCBs are burned (about two-thirds of PCBs by weight is epoxy resin) to produce a mixed-metal ingot. The ingots are eventually sold to Chinese smelters for the separation and recovery of the copper and precious metals.
To address the environmental problems of such crude processing sites, efforts are underway in many parts of world to develop local, clean processing systems.
Peethambaram Parthasarathy is the president of E-Parisaraa Ltd., an e-scrap firm in Bangalore, India. At the conference, he described a PCB processing system that resulted from a research project funded by the Indian Ministry of Electronics and Information Technology.
E-Parisaraa buys PCBs from small, local electronics dismantlers. The PCB scrap is shredded and then sent through a pyrolysis unit. The mixed metals are smelted and flux refined to capture the copper, with the resulting anode slime sent through a hydrometallurgical and pyrometallurgical processing unit to produce precious metals.