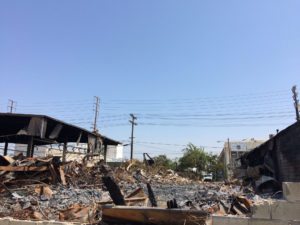 Government agencies have started cleaning up the toxic aftermath of a fire at a Los Angeles-area metals and e-scrap recycling facility. Clean-up costs are expected to total in the millions of dollars.
The U.S. EPA and the California Department of Resources Recycling and Recovery (CalRecycle) has begun identifying and removing debris from what's being called the Fruitland Magnesium Fire Incident site in Maywood, Calif.
On June 14, a fire raged at two recycling facilities: Panda International Trading, a scrap metal recycling business which also handled CRT tubes, and Sokor Metals, an electronics recycling business subleasing space on Panda International Trading's property. The fire, fueled by magnesium, forced the evacuation of 300 people from nearby homes and businesses. More than 40 houses had to be cleaned before residents could return, according to the Los Angeles Times.
The EPA has identified arsenic, cadmium, chromium, lead and mercury as contaminants of concern at the site. The Times reports the costs to clean-up the property could total $3 million. CalRecycle has been given the go-ahead to remove non-hazardous debris from the site for disposal or recycling. Its costs could climb to $320,000.
Unrelated to the fire, Panda International Trading and its owner, Da Xiong Pan, were convicted of six felonies connected to the storage and disposal of hazardous waste on the site. In Nov. 2013, the California Department of Toxic Substances Control (DTSC) conducted a search of the property and collected evidence the company released toxic levels of copper, lead, zinc, cadmium, nickel and chromium in a black dust onto the public sidewalk. DTSC alleged the company disposed of, treated and stored the metals without a permit.
Pan pleaded guilty on Sept. 14 to five felony counts and received 16 months in prison, which was suspended to one day in jail and 1,000 hours of community service. Both the company and Pan will pay $53,568 in restitution.
According to the Times, Sokor Metals used leaching to recover precious metals from circuit boards. The company was cited a week before the fire for alleged hazardous waste violations.
The owner of Sokor Metals, Ashoor Koriel, and Pan's attorney both said the businesses were not the cause of the fire, pointing instead to electrical equipment near the property, the Times reported.
The cleanup of hazardous substances at the site could take up to eight weeks, according to a letter from the EPA to the Los Angeles County Department of Public Health. The letter describes the cleanup operation.