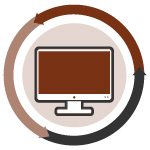 A Chicago suburb makes changes to its e-scrap recycling program, and federal prison funding is affecting electronics recycling in New Mexico.
E-scrap recycling returns: After a suspension of the program, residents of Naperville, Ill., a Chicago suburb, can once again drop off old TVs and computer monitors for recycling at the City's collection center, says the Naperville Sun. But, it won't be free. Residents will be charged a fee for each item.
E-scrap recycling is cut: After seven years, the City of Las Cruces, N.M. is ending its free e-scrap recycling event. According to the Las Cruces Sun-News, the South Central Solid Waste Authority partnered with UNICOR Federal Prison Industries to recycle the items, but the federal government cut UNICOR funding over the summer. The City will still accept items, but for a charge, and all CRT devices will be landfilled.
E-scrap uptick: The City of Bayonne, N.J. has increased its electronics recycling by 31 percent since last year, according to NJ.com. The City recycled 117 tons of e-scrap in the first nine months of 2016 compared to 89.5 tons during the same time period in 2015.