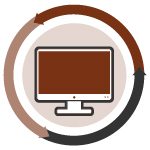 Some New York residents now get curbside e-scrap collection service, and an article argues that Liam, the iPhone deconstructing robot, may not be your best option for recycling.
Hands off, Liam: The website Grist writes in favor of repairing old iPhones, or reusing their components, instead of recycling themthrough their manufacturer, Apple. Despite the invention of Liam, a robot that can dismantle an iPhone in 11 seconds, Apple continues to melt down parts that are still reusable.
September numbers: E-Cycle Washington has released its collection totals from last month. The program collected 2.6 million pounds of TVs, computers and monitors in The Evergreen State.
Collection on demand: In the New York City borough of Staten Island, residents can schedule an e-scrap pickup. As reported by silive.com, residents must schedule the pickup at least two weeks in advance and they can place up to 20 electronics curbside at a time. The City estimates that three crews will be able to make 60 pickups a day.
Grant watch: Cabell County, W.Va. received a state grant to keep its e-scrap recycling program up and running, according to The Herald-Dispatch. The Cabell County Solid Waste Authority hosts two collection events each year.