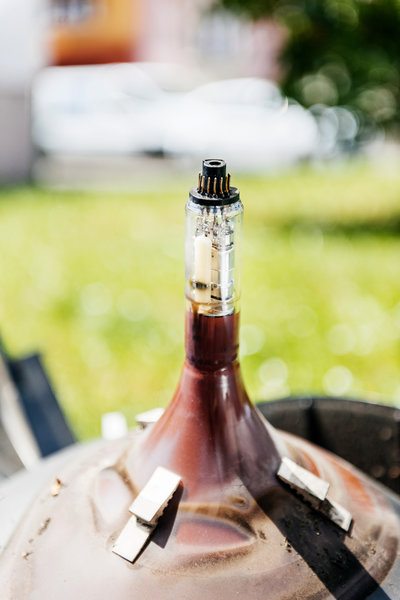 As the e-scrap industry has struggled to efficiently handle CRT glass in recent years, many stakeholders have held out hope that technologies could be developed to cost-effectively remove lead from the material and pave the way more CRT recycling.
One company that has been a regular part of the conversation is Nulife Glass, which in 2013 began building a furnace operation near Buffalo, N.Y. and has more recently aimed to begin feeding a plant in rural Virginia.
Earlier this year, the company began processing at the New York site, and according to Simon Greer, Nulife's founder, the company has been able to find markets for the lead and other byproducts.
In an interview with E-Scrap News, Greer discussed the state of Nulife project and said he has hopes to open more CRT-focused furnaces in the U.S. and across the globe.
E-Scrap News: Nulife's New York furnace began running back in February. How has it gone thus far?
Simon Greer: The furnace has run well. The lead extracted is about 99 percent pure and is being sold to lead companies that make car batteries. As far as the glass is concerned, we make the glass clean enough to be used in many applications, but our default position is to use it as an aggregate replacement.
Has the company been able to find markets for both the recovered lead and de-leaded glass?
Lead sales are easy. There are many customers and brokers who want to buy lead as pure as we make it, and the market going forward for car batteries seems insatiable.
The income from selling our glass as an aggregate replacement is low, but our business model accounts for that. We are also constantly researching new ideas where we can increase its value.
We've used the glass in concrete for foundations and roadways and we've just made some smaller slabs as well. Demand for it is coming from architects and designers who are looking to achieve LEED standards in the products they use.
When the furnace opened, it was expected to process about 10 tons per day of crushed glass. Is the furnace on pace to meet that goal?
We have been achieving 10 tons per day, but we must make allowances for maintenance, inspections and things like that.
We have noticed that we are using less power than expected and this might mean we can squeeze a bit more performance out of the furnace in New York, but we need to ensure there no negative side effects before we steam ahead. So, at least for now, 10 tons per day seems to be a reasonable target for this furnace.
You've talked in the past about the importance of having a sufficient backlog of material on-site before turning on a furnace. What's the ideal volume for an operation of your size and why is that so important to have?
The ideal situation would be to have the whole life-cycle requirement of feedstock on hand the day we turn the furnace on. We have modeled the business to write the furnace off over 10 years, so to have 10 years worth of glass, approximately 36,000 tons, on hand would be ideal. This is because we would have secured our business' success before we even start melting.
Our current business model means the gate fee we charge is to pay for the furnace, all the ancillary equipment and the building, but our profit comes from the sale of recovered materials. So we need both pieces of income to make the whole thing work.
In Bristol, Va., you're also planning to build a furnace. When do you expect that will be up and running?
I was hoping to start building before the end of the year, but time seems to be rushing by so quickly. The building in Bristol is ideal for the furnace and we have some key members of staff in place at the site who have spent many hours at our New York facility in training for the furnace they will build in Virginia.
What equipment is currently installed and in use at the Bristol facility?
We are building CRT breaking rooms now. We have a small core team in Bristol of nine people and I am due there next week to increase that by at least 30 people.
How much material is currently on the site in Bristol?
At present, we have about 6 percent of the furnace feedstock in Bristol, but it is mostly in whole tube form so we need to break them down and prepare them to be feedstock during the next few weeks.
Do you anticipate opening additional sites elsewhere in the U.S.?
Yes. I would like to open more sites in Virginia so we can service the heavily populated areas in and around the state easier.
We have also had requests from authorities to open in three northeastern states and two southern states. Obviously, the West Coast is in need of a solution as well.
Overseas, we are being asked to open facilities in Malaysia, Middle East, Australia and just this week we received a strong inquiry from Africa.
What's the single biggest challenge preventing the company from building more furnaces? Is it the fact that CRTs won't be around forever? Is it regulatory hurdles? Something else?
Legislation. You could keep me on this subject all day long, but the single biggest challenge is satisfying old rules with a new invention.
We are a lead smelting operation and as such we have to abide by Title V Air Permit Regulations. The regulations mention batteries 82 times, but they don't mention CRTs once. So the only way to permit our process is to make on old rule fit a new process.
There are many features that don't fit what we do and fixing those details is difficult – in fact, it is more difficult than inventing a CRT recycling process.
The federal CRT Rule is difficult too. It looks simple but the reality is that it leaves holes in it for the unscrupulous to weave through and for people like us to suffer misinterpretations and spend months in debate over semantics rather than getting on with melting glass and designing new recycled products.