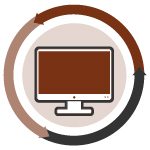 SERI fights back against export claims from the Basel Action Network, and Google makes a promise for zero waste at data centers.
Certification scuffle: SERI, owner of the R2 certification, is questioning recent allegations made by Basel Action Network (BAN) regarding SERI's approach to e-scrap exports. SERI says BAN, which is tied to the e-Stewards standard, spends more time "disparaging its competition, than it does trying to solve the real problem of exports that are illegal or harm workers and communities."
Google stresses reuse and recycle: Google announced it will aim for zero waste to landfill at its data centers. When equipment breaks it will be repaired, and when it can no longer be repaired it will be recycled. Google said it will also incinerate some material at a waste-to-energy facility.
ISRI on TPP: ISRI has announced its support for the Trans-Pacific Partnership Trade Agreement. ISRI says the controversial international trade policy would generate tens of millions of dollars for the recycling industry because of eliminated tariffs on commodities and equipment exports. The trade deal was created earlier this year, but Congress has yet to ratify it.
E-scrap milestone: Newfoundlanders and Labradorians have recycled more than 2,500 metric tons of electronics over the past three years, according to the Electronic Products Recycling Association. Last year, EPRA Newfoundland and Labrador hosted 25 collection events in rural parts of the province. Newfoundland and Labrador is Canada's most easterly province and has a population of roughly 527,000.