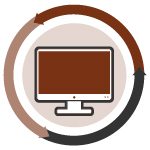 A petition opposing e-scrap exports grabs more backers, and a North Dakota municipality joins with a nonprofit group to boost electronics recovery.
Gathering signatures: The Basel Action Network is close to getting 1,000 signatures on its change.org petition asking President Obama to stop the export of e-scrap. BAN is hoping the president will sign an executive order before he leaves office.
E-scrap recycling partnership: The City of Minot, North Dakota now has a local e-scrap recycling program. A recycling center owned by Kalix has joined with Cycle Point, a national network of nonprofit organizations, to operate the program.
Eliminating e-scrap: The site Engadget recently highlighted a number of products and concepts that can help reduce discards of electronic material. Among the offerings included in the rundown, are Google's modular smartphone, Apple's Liam robot for device dismantling and a circuit board that dissolves in water.
Material overload: The small town of Lee, N.Y. needs a new e-scrap collection site because of an overflow of materials. The drop-off site is currently behind the highway department garage, and according to the Rome Sentinel, the pile of TVs, computers and other electronics often gets in the way of highway workers reaching the department's fuel storage tank and pump.