This story originally appeared in the March 2016 issue of E-Scrap News.
Subscribe today for access to all content.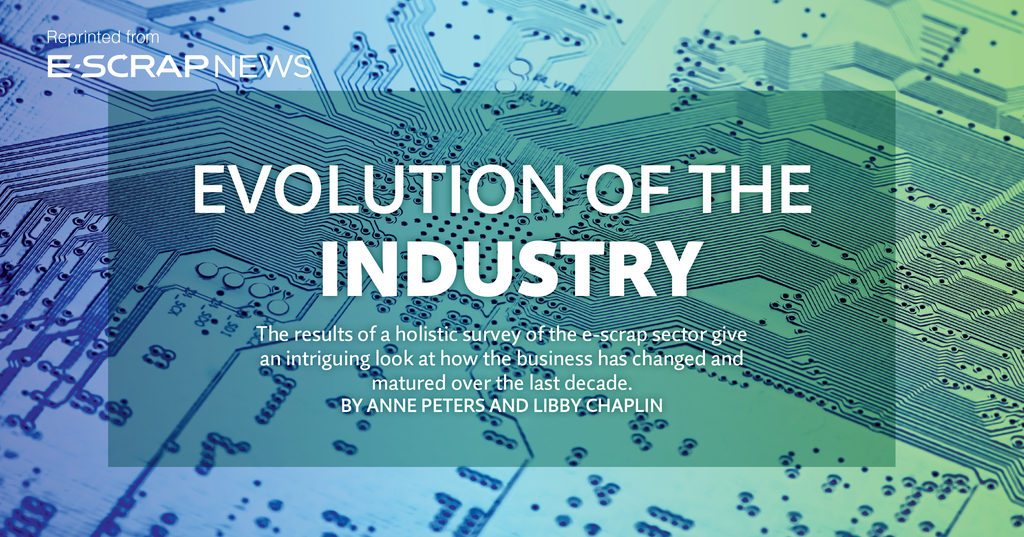 Since their debut over the past decade, the various environmental standards for electronics recycling facilities have dramatically changed the playing field for end-of-life management of scrap electronics. Created to help electronics become greener, to protect the environment, to address environmental injustices in developing nations and to provide useful differentiators between irresponsible and responsible recyclers, the R2, e-Stewards, WEEELABEX, Canadian RQP and EPEAT standards have undoubtedly shaped the industry. But are they still on track to accomplish what they set out to do? What do those in the know have to tell us about how these standards interrelate with the most pressing issues facing e-scrap processors?
Surveying the field
For the third time since 2012, we surveyed global and national electronics recycling industry stakeholders to address these questions, to track trends and to identify the best opportunities available in the electronics recycling industry in both the near- and long-term. In addition, our latest survey explored industry perceptions and issues facing the discarded or end-of-life electronics ("EOLE") business around the world and monitored the changing impact of the standards. The survey, conducted in 2012, 2013 and again in 2015, was promoted via key industry channels including E-Scrap News, Basel Action Network/e-Stewards, Sustainable Electronics Recycling International/R2, Electronics Product Stewardship Canada, Recycling Qualification Program Canada, the WEEE Forum, many listservs and professional contacts.
The third time around, our survey was sent to over 1,000 parties and we received 213 responses – about 80 percent from North America, 6 percent from globally operating organizations, 7 percent from European-only respondents and 1-2 percent each from Africa/Middle East, Australasia and Central/South America. The largest single-sector of respondents – 23 percent – described themselves as recyclers (including collectors) and another 18 percent self-identified as reuse-refurbishment-asset-disposition organizations. About 17 percent of respondents were governmental organizations (including UN-related organizations), 8 percent were consultants and the rest consisted of trade associations, brokers, secondary processors, advocacy groups, nonprofit groups, OEMs, equipment or logistics suppliers, researchers, policy types, certification bodies, auditors and take-back system parties. We felt the survey yielded a credible and representative cross-section of this industry, with its complex cast of characters and stakeholders.
At the time of the survey, approximately 40 percent of the 1,559 locations of North American EOLE facilities were certified, up from 24 percent in 2013 (when there were 1,418 locations).
How has the industry transformed?
Changing field of competition – This survey also helps us look at changing trends in the world of certified versus non-certified facilities. We've asked the following in each survey since 2012: Do EOLE standards level the playing field by facilitating more responsible management of e-waste? In 2012, 82 percent answered yes, and in 2013, 78 percent said yes. But by 2015, that had dropped noticeably to only 62 percent (see Figure 1 on page 26).
We also heard from respondents that competition is now centered between non-certified and certified e-cyclers. This represents a shift away from respondents two to four years ago saying competition was between individual certifications, such as R2 and e-Stewards.
Respondents in 2015 expressed concern that non-certified companies offering "free" and cheaper recycling services could erode the market share of responsible recyclers due to the continued ignorance on the part of many e-scrap generators of the difference between "good" versus "bad" recycling.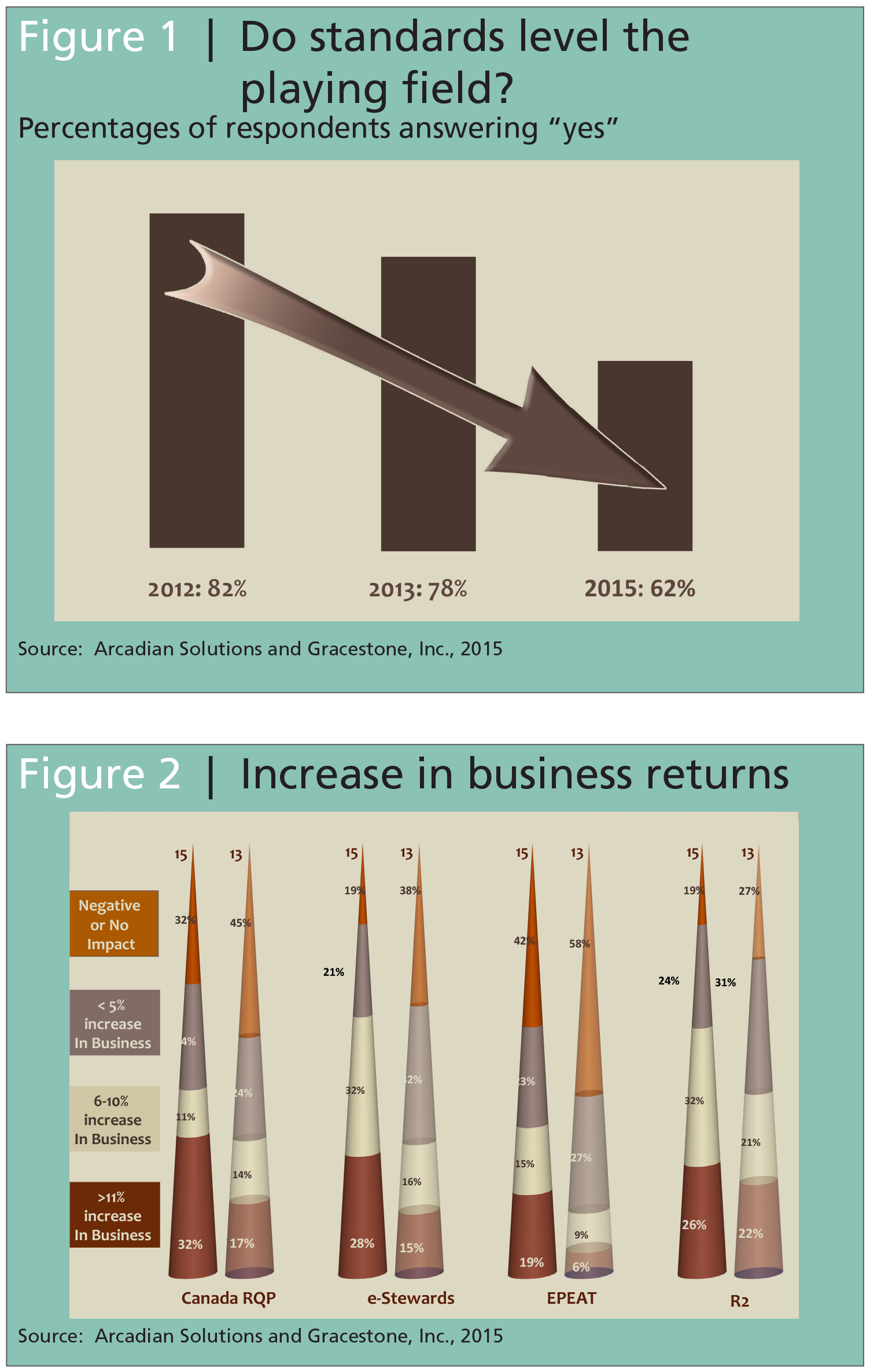 Impact of certifications on operations – Survey results made it clear the standards are leading to significant improvements, particularly in safety. This is notable in an industry that faces real health and safety risks in the workplace. Forty-two percent of respondents believe certification reduces their risk, 51 percent believe that it improves their reputation, and 44 percent believe certification leads to reduced accidents and improved worker safety. Many also stated a belief the certifications help them prepare for customer or regulatory audits, no doubt because they provide a framework for being proactive and maintaining good records.
Market inequities in the world of certification – These imbalances were addressed by survey respondents, with many noting that only larger companies can afford certification. In addition, many smaller e-scrap processors simply felt the costs of getting and staying certified were too high. Scrapyards, less-responsible electronic recyclers and nonprofit groups with lower overheads are more able to get e-scrap from small- to mid-size local businesses that don't face the type of accountability for responsible management of end-of-life electronics that larger institutions and corporations do, the survey suggested.
Quantifying the changing e-scrap stream – Survey respondents spoke to a number of issues, such as the decreasing quantity of "total pounds recycled per year," which consequently makes the whole pie smaller for all players. This shrinking e-scrap stream will lead to a cascade of changes, especially in a time of decreasing commodity prices. Decreasing commodity prices – ranked as the second most important issue facing the electronics recycling industry at the moment – leads to tighter profit margins, which in turn will cause more consolidation and/or businesses doing less recycling and more reuse. The hunt for the greater profit margins available in reuse and refurbishment commenced, respondents said. In addition, the younger companies that might have started when the market was relatively positive may now be exiting the business altogether.
The shrinking e-scrap stream – Electronics continue to get smaller, and respondents observed that our industry is not well-prepared – at least on a technological level – for this trend. About 37 percent of respondents ranked the unknown or changing composition of the e-scrap stream as one of the top four most-pressing issues the industry is facing. Respondents also roundly condemned weight-based reimbursement schemes for failing to account for the lighter e-scrap stream. Several respondents spoke to inadequate manufacturer reimbursements in U.S. state electronics recycling programs, which often require manufacturers to pay for the collection and recycling of a set amount of electronics each year.
CRT glass – Issues surrounding CRTs were ranked by 62 percent of those surveyed as the top issue facing electronics recycling. This topic has been well-covered in the pages of E-Scrap News, and respondents had several primary complaints: CRTs are blamed for the ""lousy economics of post-consumer e-scrap flows;" poorly educated generators of CRTs were called out by one respondent, who said "clients still have a hard time paying for CRT processing, and even though it has been years since they could get paid for CRTs and most have heard of the environmental horror stories, they still do not want to pay." Our respondents noted that losses and risks around CRT recycling may lead to more landfilling of CRTs, companies exiting recycling and abandoned warehouses of the lead-laden material. Everyone in the industry is united in wanting to see the development of more acceptable options for CRT end-of-life management.
Reuse and refurbishment – This continues to be a difficult arena for certified recyclers. Many respondents noted standards act as disincentives for reuse. The standards' paperwork and documentation requirements are especially hard to comply with for smaller businesses. At the same time, reuse's profitability is not declining – remember, it's not dependent on commodity markets – and more players are entering the fold. It was also noted that the standards' reuse guidelines were originally written for PCs, laptops and the like, which is problematic given the evolving e-scrap stream.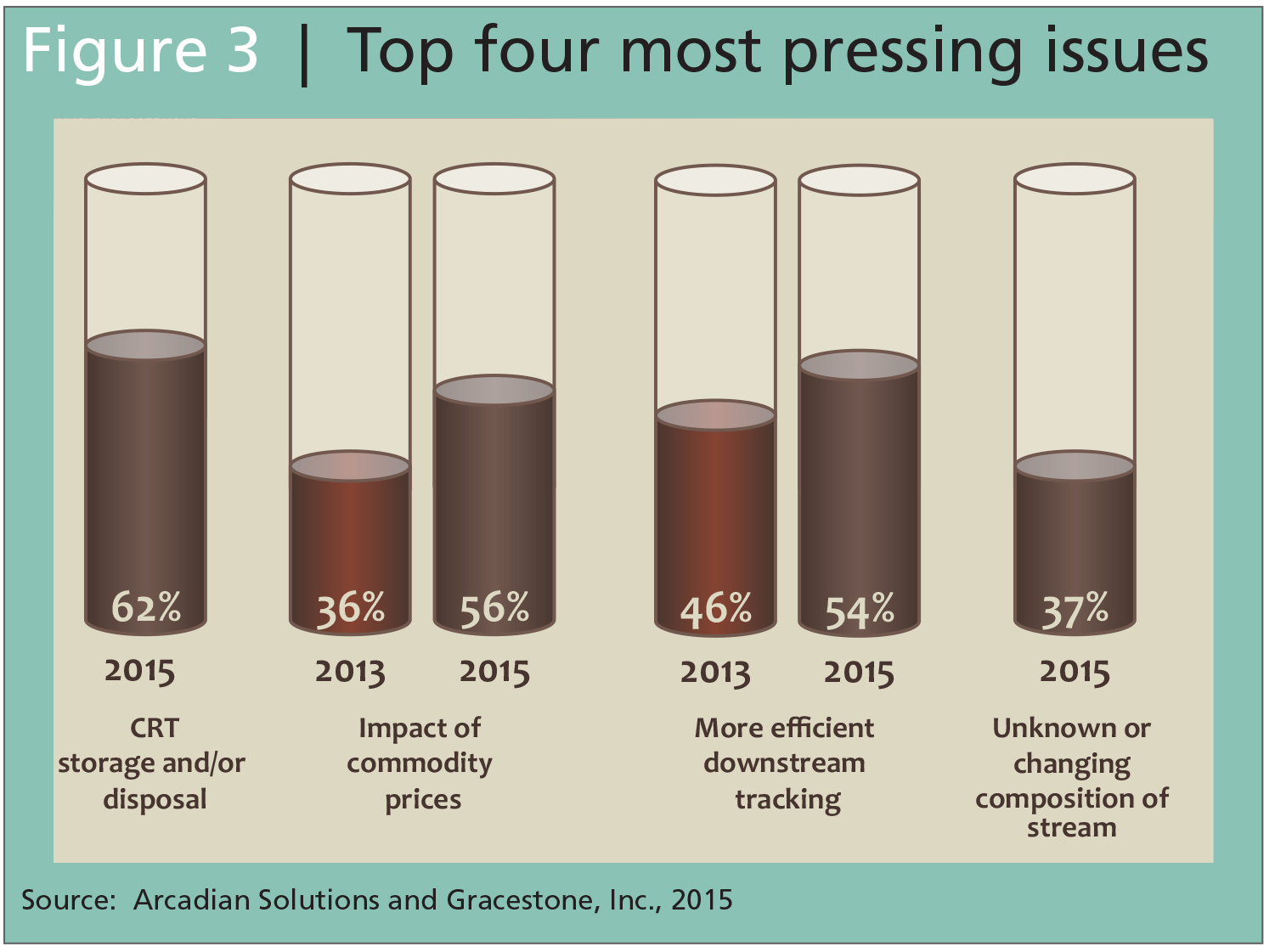 Other areas where certified companies could be more rigorously audited according to the survey, include closure financials, financial auditing to document actual downstream vendors and a more through review of bills of lading for downstream material flow. We also heard from respondents that conflicts of interest undermine the credibility of certifications, and that current audits are inadequate to sufficiently monitor all aspects of a given operation and its compliance with a standard or set of standards.
Government issues – Many aspects of the government at all levels were singled out in this year's survey, as they were in the two earlier surveys.
This included:
Ending the practice of the government selling its own e-scrap at auctions and instead requiring certified processors to take its end-of-life equipment.
The government is the single most significant driver of increased recovery of electronics, from both enacted product stewardship laws and programs and from the responsibility to enforce existing laws – not just product stewardship, but environmental and occupational health and safety laws. Respondents noted that these activities can drive responsible recycling more thoroughly than standards can.
Landfill bans to drive increased recycling.
Robust calls for solutions – "There should be a universal industry certification for all used electronic handlers to ensure a united front in protecting the environment, workers in the industry, and communities," one respondent wrote. This sentiment has been echoed in all the surveys we've conducted since 2012. Further, some noted that mandatory certification would level the playing field, and that generators must be incentivized to use a certified recycler or material will continue to flow to least-cost/highest-profit outlets. Finally, respondents called on stakeholders to ensure that the certifications are actually "doing what they say they do and that the standards and enforcement actions are rigorous." This research was conducted by Anne Peters of Gracestone, Inc. and Libby Chaplin of Arcadian Solutions. These two small consultancies have in-depth expertise on most aspects of global EOLE management. They offer management, system design and support, research and analysis services, as well as training and multi-stakeholder decision support, with topical expertise on EOLE processing standards implementation. The firms also have experience in compliance with take-back laws, EH&S, EMS, EPEAT, RoHS, conflict minerals and more. The authors and their firms have provided services to all players in the global EOLE ecosystem including manufacturers, regulators, standards owners, certification bodies, electronics recyclers, the U.S. EPA and more.
Anne Peters can be reached at [email protected]. Libby Chaplin can be reached at [email protected].