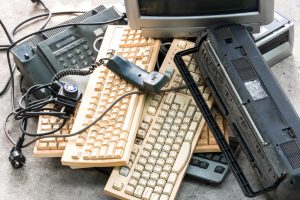 Computer giant Dell says it is closing in on its goal of collecting 2 billion pounds of used electronics by 2020.
According to the sustainability report, Dell-backed programs worldwide recovered 168 million pounds of material in the company's 2016 fiscal year.
That brings the company's total to 1.6 billion pounds since 2008, when it began charting progress toward the 2020 goal.
The company has take-back programs active in 83 countries, but in the report it did acknowledge challenges that stand in the way of the 2 billion pound collection target.
"One is that products continue to get smaller and weigh less over time, so we must collect more units to reach our takeback volume goal," the company noted. "But developing new programs and entering new markets is an intensive process."
The company's overall collection in 2016 was roughly 2.7 percent lower than what its programs recovered in 2015.
The company also reported on its use of recovered plastics, noting it now incorporates recycled plastics from electronics, water bottles and CD cases in 48 of its products.
Dell increased its use of recycled plastic to 14.1 million pounds in 2016. That's 20 percent higher than the company's use of 11.7 million pounds in 2015.
The company has been making use of recycled plastic since 2008 and has used just over 36 million pounds of recovered material since. It has a goal of using 50 million pounds of recycled plastics and other sustainable materials, such as carbon fibers, by 2020.