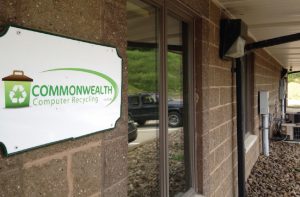 At a time when falling commodity prices are squeezing profit margins at many e-scrap recycling companies, Commonwealth Computer Recycling has managed to buck the trend.
The company's leader says the key has been diverting electronics away from the shredder so they can be reused.
"We are a business that, despite falling commodity prices and increasing competition from smaller, traditionally residential players, has experienced revenue growth of 50 percent or higher over the last several years because of our ability to identify electronics for reuse and our relationships with reuse/resale vendors around the globe," company CEO Serdar Bankaci said.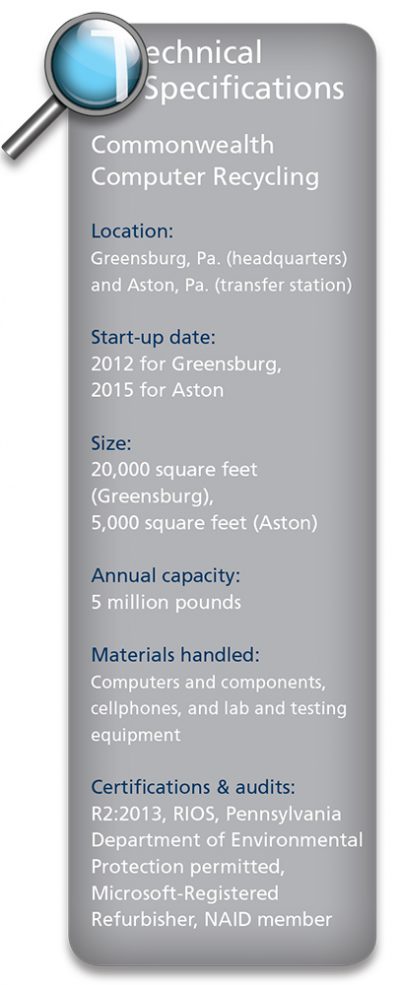 Commonwealth services Pennsylvania and surrounding states from its R2:2012/RIOS certified processing center in Greensburg, just outside Pittsburgh, and its transfer station located outside Philadelphia in Aston. The processing facility handles about 5 million pounds of e-scrap per year, mostly from corporate customers.
According to the Commonwealth website, customers include Children's Hospital of Philadelphia, the Department of Homeland Security, the FBI, the Pennsylvania State Police, SGS North America, the U.S. Department of Labor and the U.S. Food & Drug Administration.
The company's proprietary process allows it to maximize the identification of electronics for refurbishing and reuse at both the Greensburg and Aston facilities, Bankaci said. Material that can't be refurbished is sent to downstream vendors.
However, the company does use two hard drive shredders from Ameri-Shred. It also has a degausser from Garner Products. It provides both on- and off-site data destruction services.
Commonwealth educates and supports the communities it serves by hosting collection events at local schools and community centers. The events result in community members learning the benefits of recycling. Often, the partner organizations also earn money from recycling via a profit-sharing program with Commonwealth.
Commonwealth Computer Recycling recently announced it had raised growth capital from a group of Philadelphia-based private investors. The company will use the money to scale its IT asset disposition, data destruction and scrap recycling services through the Mid-Atlantic region, starting with northeastern Pennsylvania and Delaware.
Commonwealth Computer Recycling serves the states of Delaware, New Jersey, Pennsylvania and West Virginia as well as northern Maryland and western Ohio.
This article originally appeared in the March 2016 issue of E-Scrap News. Subscribe today for access to all print content.