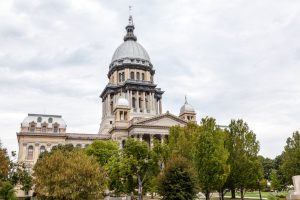 R2 and e-Stewards representatives are challenging the legality of a bill in Illinois that prohibits accrediting organizations from penalizing e-scrap companies if they send CRT glass to storage cells at a landfill.
The CRT storage approach is allowed under current Illinois law.
"This legislation is an attempt to rewrite the standard via legislation, which is clearly inappropriate and, in my opinion, unconstitutional, based on the First Amendment right of free speech," said Willie Cade, founder of Chicago-based PC Rebuilders & Recyclers. His firm is certified to the R2 standard.
R2 and e-Stewards serve as environmental and safety certifications for e-scrap companies.
Cade started an online petition to bring attention to the issue.
The bill in question also says the state won't require accreditation for companies using the storage-cell option. Kuusakoski U.S. began placing leaded CRT glass in storage cells in 2015 at a landfill in Peoria, Ill.
R2 prohibits the storage-cell approach, and e-Stewards permits it only as a "conditionally allowable option."
'A disastrous precedent'
Jim Puckett, executive director of Seattle-based Basel Action Network (BAN), which started the e-Stewards certification, released a statement challenging the legality of the bill.
"Our advisors tell us that a state such as Illinois cannot tell a voluntary business association created in the state of Washington what their membership or certification criteria can be and cannot prevent us from sanctioning or suspending members that are not willing to voluntarily meet the criteria," Puckett said. "As written this rule would appear to violate our basic rights of speech and association and moreover would attempt to do so outside of its own jurisdiction."
Sustainable Electronics Recycling International (SERI), which administers the R2 standard, is sending an email to all R2-certified e-scrap recycling companies in Illinois asking them to sign the online petition.
"Putting aside your beliefs – pro or con – about retrievable storage of CRT glass, the more important issue for the R2 certification program is that state legislators are attempting to dictate what can and can't be included in the voluntary, consensus-based standard," the email states. "This bill sets a disastrous precedent for allowing legislators in all 50 states, as well as lawmakers in other countries with R2 certified companies, to create their own versions of the R2 standard."
"To put it bluntly, if passed, this bill would be the beginning of the end of the R2 standard," the email states.
Questioning state's approach
Both Puckett, and John Lingelbach, executive director of SERI, told E-Scrap News that if Illinois wants CRT glass in storage cells, it should pass a law requiring it. The certifications require e-scrap companies to comply with state laws.
"If Illinois passed a law to mandate that all recyclers operating in Illinois must use landfill storage cells, then in that case e-Stewards operating in Illinois would be forced to oblige, as adherents to our standard, must always obey applicable law," Puckett said.
"If the people of Illinois believe CRT glass belongs in retrievable storage cells, they should pass a law saying so," Lingelbach noted. "The R2 standard then would be forced to require Illinois recyclers to use this disposal option, even if the majority of the R2 community disagrees with it as policy because retrievable storage is not recycling."
Any law mandating the storage approach could enter questionable legal territory regarding limiting competition in the market.
The current legislation is HB 6321 in the Illinois House of Representatives and SB 2770 in the Senate. A committee on April 4 voted to advance the House bill.
In the House, the bill is sponsored by Democratic Rep. Jehan Gordon-Booth, who is assistant majority leader. In the Senate, it is sponsored by Democratic Sen. David Koehler, who chairs the Environment and Conservation Committee – that Senate committee is currently considering the legislation.
Both legislators are from Peoria, where the storage cell placement is occurring.
Calls from E-Scrap News to Gordon-Booth and Koehler's office seeking comment were not returned.